======================================================================

Welcome Back To The Hootenanny Power Pages, Folk and Roots Music Playlist, and Coming Events in Baton Rouge and surrounding areas. The Hootenanny Power radio show, since 1981 on WRKF Public Radio Baton Rouge. The live audio stream may be heard via computer, Saturday nights, 9 pm to midnight central time, at www.wrkf.org, or on the airwaves at 89.3

Hootenanny Power Live Streaming Only! Broadcast regulations and licensing make podcasting or archiving rights for music programs murky murky murky. Unless and until these matters are cleared up, Hootenanny Power will be live streaming only, 9 pm to midnight central time, Saturday nights http://www.wrkf.org

=======================================================================

(This multi-dj folkstravaganza took place Saturday night, August 8 2015, in Chicago. I hope to obtain an edited version that we can air on Hootenanny Power.)
The Midnight Special With Rich Warren & Friends, WFMT Chicago
A special four-hour edition with a studio audience. Rich is joined by fellow radio hosts and folk-music enthusiasts Taylor Caffery (WRKF/Baton Rouge), Wanda Fischer (WAMC/Albany), and John Platt (WFUV/New York City).
====================================================================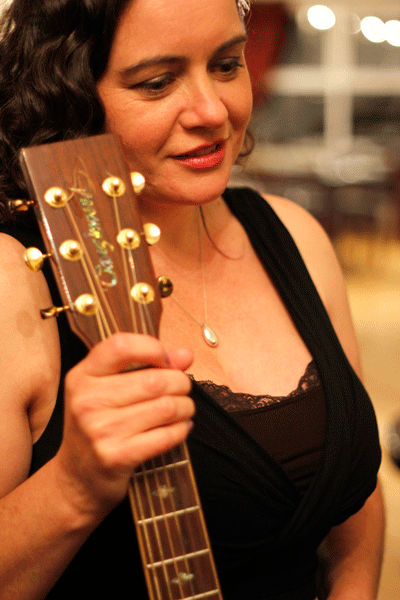 CLARE HORGAN AT CALMES HOUSE CONCERTS
Clare is down from New York, will play a few gigs in our area, and then will be off to her home in Ireland. Let's show her a warm welcome to Louisiana by getting a few more people to come to her show.www.clarehorgan.com

We don't normally have an act for you in December, but we had an opportunity to catch Clare Horgan, the very busy folk and traditional singer from Skellig, Ireland, on her tour of our region. So, she will be performing in our living room on December 5th.

Clare was born in Waterville, Ireland and grew up in a bilingual community on the edge of the Irish Speaking (Gaeltacht) area of Baile 'n Sceilg. At an early age, Clare began performing throughout Ireland in competitions of unaccompanied folksong Fleadh Cheoil in the Sean-nós category. She would go on to study jazz at the Leeds College of Music and to perform with several jazz ensembles, but retained her connection to folk music with her group The Lilting Banshees.

In London, Clare was in an interesting ensemble called Luascadh, which played a combination of swing, traditional Irish and gospel. And on the list goes . . . .

She was silver medalist at last year's All Ireland senior Sean-Nós singing competition. She has appeared on RTE, BBC Television and received regular airplay on numerous radio stations including WGBH Boston with Brian O Donovan and on BBC Radio with the late John Peel and Andy Kershaw.

Here is a link to Clare's website where you can hear samples from her new CD. One purchaser of the CD wrote: "As I was listening to her album, I again enjoyed the beauty of her voice. Whether it was jazz, blues or folk songs, the purity of her voice is constantly there. There is no exposition of virtuosity, no overacting, or in any other way aiming for effect. Clare remains instead very focused on the song. Her work is strong yet fragile and always beautiful".
http://www.clarehorgan.com/awayoerthewater.html
Artist: Clare Horgan
Place: Calmes House Concerts
When: Saturday, Dec. 5 at 7 P.M.
Suggested Donation: $15 to $20 per person
Send us an e-mail at calmeshouseconcerts@gmail.com and sign up soon.

============================================================
Darlingside @ Manship Theater in Baton Rouge, LA
============================================================

BeauSoliel Holiday Concert
Saturday, December 12, 2015
===================================================================
Deacon John & The Ivories with special guest
DR. JOHN, "THE NIGHT TRIPPER"
Saturday January 16, 2016, 7:30 PM
Location: Baton Rouge High School Auditorium
$75 Reserved Seating
Purchase tickets online":
http://www.tix.com/Event.aspx?EventCode=796004
Proceeds to benefit BRHS Radio, TV, Journalism, and Theatre Arts Programs
Presented by Johnny Palazzotto and Friends
===============================================================
RED DRAGON LISTENING ROOM:
News from the Red Dragon: contact cmaxwell@premier.net
Red Dragon TheWebsite: www.reddragonlr.com
Reservations cmaxwell@premier.net
We have just four more concerts remaining in 2015. It has been a most eventful year and we sure hope you will end it by joining us for some great music.
Sun, Nov 29 MATT HARLAN $20 STEVE JUDICE opens
Wed, Dec 2 ROMAN STREET $20 no opener
Fri, Dec 4 GREG TROOPER $20 GINA FORSYTH opens
Thur, Dec 10 SAM BAKER $20 ERIC SCHMITT opens

Big Show announcement... Last month I announced that the great PAUL THORN BAND would be returning to the Red Dragon on Sat, March 5. I only mentioned it briefly and we nearly sold it out.....four months in advance. Time for a leap of faith. Paul and the guys will be sticking around for a second night. Sunday, March 6 at 7pm. We will start taking reservations today. If you are already reserved for the Saturday show, you get first preference to move to the Sunday........a chance to move forward if you weren't early in the seating process. Seats for either night are $60, VIP seats are $70. MARTIN FLANAGAN will open the Sat show and BARRY HEBERT will open on Sunday.
Peter Yarrow (of Peter, Paul & Mary)... On Sat, March 12 we will host folk music legend PETER YARROW. We announced this show six weeks ago and sold out the VIP seats right away. We do still have 12 more seats if anyone would still like to join us. Plan on mailing a check if you wish to reserve......we can't afford a single empty seat on this extremely expensive show. Regular seats are $100 each and checks can be made out to The Red Dragon Listening Room and mailed to Chris Maxwell, 8631 Rainwood Ave, Baton Rouge, LA 70810.

Binky's Dad, chris mAs I keep stressing, we are now a 501 (c) 3 Federal non-profit corporation. Checks are tax deductible and can be made out to LOUISIANA AMERICANA & FOLK SOCIETY and mailed to 8631 Rainwood Ave, Baton Rouge, LA 70810. cmaxwell@premier.net

==============================================================

BLUEGRASS NEWS:

We have had good response to the Sunday jam at Bass Pro's restaurant - once everyone found out that the jam is in the restaurant and that the personnel in the retail store know nothing about it.

..

We've seen Ken Oden, Roby Pousson, Phil Pousson, Phil Cangelosi, Leon Gautreau, Leon Miller, Alan Morton, Fritz Mayers, Dave Wessinger, Gordon Jones, Kathryn Carlson, Marguerite Gravois, Jim Hogg, James Linden Hogg, Linda Brown Hogg, Van Glynn, Stan D'Aubin, Jerome LaBat, Dan Williams, Leisa Cockerham, Mark Cockerham, Stephen Stewart, Lynn Menard, Paul Lanier, Jim Brown, Louis Lipinski, Peggy Owen, Marvin Pool, Willi Sager, Rex Hall, Vincent Abadie, Sam Alfano, and many others visit us there. Add your name to the list of regulars.

.
The Old Feed Store series is starting on Saturday Sept. 19.
https://www.facebook.com/OldFeedStoreMusic

All day jams and concert series will occur at Poche Plantation arts festival October 24-25.

BTW It's a pot-luck supper jam on Sunday, at "Birdman."

<< We are starting a monthly jam session called "hootenancy". Or Nancy's Hootenanny. It will begin at 5:00 on the first Sunday of each month at "BirdMan Cafe." My contact info, call lynn at 721-1296 or email to birdmancoffee@bellsouth.net with questions. Thank you! >>

from: Lynn Wood <birdmancoffee@bellsouth.net>
Date: August 29, 2015 at 12:33:54 PM CDT
To: "brbluegrass@aol.com" <brbluegrass@aol.com>
Subject: Hootenancy jam in St Francisville

We have a new shipment of embroidered "Baton Rouge Bluegrass" and "Louisiana Bluegrass" T-shirts, Polo shirts, short-sleeved and long sleeved dress shirts in white and in blue (pictured), oxford and broadcloth. [The collared polo and dress shirts are perfect outfits for your band.] All shirts are sold at or below our cost and are reserved for pickers (and spouses). And if you are short of cash, we take IOU's, guitar strings, spare parts, and in-kind services in trade. Better yet, when you outgrow the shirt (and it seems every one does) you can trade the old shirt for another size. We don't want these collector's items to end up in "goodwill" or dust rags. Contact us for more pictures, sizes, etc.


======

www.oldtimemusic.com
www.msbga.org/events/eventlist
www.bluegrassdog.com
www.HootenannyPower.com
www.abitaopry.org
.

Baton Rouge Bluegrass Ass'n
(Jonathan Harris, Social Chairman /Janitor)
P O Box 4112, Baton Rouge LA 70821 (Louisiana)
BRbluegrass@aol.com
Tel. (225) 387-1600; Text 225.252.2708
Home of BlueGrass on the Bayou
Louisiana Bluegrass & Olde Tyme Music
.
.
HARRIS Law Firm - main financial supporter, preparing estate plans and last will and trust documents for the serious bluegrass fan concerned about his family and estate, and the perpetual care of his banjos, mandolins, violins and Martin guitars. Proceeds go to concerts and jams. HarrisLawFirm@aol.com

Gerard Furniture in BR - generous financial supporter, contributing to bringing in guest performers for Jams. Show support by visiting the store and mentioning "bluegrass."

Baton Rouge Bluegrass Ass'n
(Jonathan Harris, Social Chairman /Janitor)
P O Box 4112, Baton Rouge LA 70821 (Louisiana)
BRbluegrass@aol.com
Tel. (225) 387-1600

================================================================

The Folk Alliance International has announced the keynote speaker for its 28th annual conference — and it is the one and only Judy Collins. The FAI has also announced the artist showcase lineup for the conference, held February 17-21 at the Westin Hotel at Crown Center, Kansas City MO.

More than 190 artists from 11 countries will perform at the conference. For more information about the Folk Alliance International conference, or to purchase tickets, go here:

====================================================================

BOTKIN PRIZE GOES TO MAIDA OWENS

Louisiana Folklife Program Director Maida Owens recently received the Benjamin A. Botkin Prize from the American Folklore Society , recognizing her profound contribution to public folklore. The Society, founded in 1888, is composed of folklorists throughout the world, and the Botkin Prize is its highest honor.

"Maida Owens offers a deep understanding for Louisiana folk culture and history, and I am proud that her work with the Folklife Program has earned her recognition for this award," Lt. Governor Dardenne said.

Owens has contributed almost 30 years to the Division of the Arts, previously serving as the crafts marketing program director before taking the role as folklife program director. She holds a master's degree in anthropology from Louisiana State University. Her collaboration with researchers, community organizations and individual folk artists gives her an extensive background in the preservation of Louisiana's folklife. She shares Louisiana's folk traditions in the Folklife in Louisiana website, www.LouisianaFolklife.org
.

In praising Owens, Botkin Prize Committee members said she "has been uncompromising in her commitment to the field of folklore and has helped establish what now epitomizes 'best practices' in public sector folklore methodology and practice." The Division of the Arts is under the Office of Cultural Development in the Department of Culture, Recreation and Tourism. For the latest information, follow the Louisiana Office of Cultural Development on Facebook

================================================================

From Josh Dunson

Dear Family, Friends and Folk Music Leaders,

In my 74 years, this is the first time I have ever asked you or anyone else to join me as a member of a folk and/or advocacy organization.

I am proud to be a Creative Board member and dues paying member of the WoodSongs Front Porch Association (WFPA), a non-profit group that has successfully started a major grassroots push to involve K-12 schools in lesson plans around traditional music and to begin school performer coffee houses both in the school and in community based venues. The $20 (single) and $25 (family and/or band up to 5 members) covers your admission to the two-day gathering to be held at the Museum of Appalachia just north of Knoxville on September 25 and 26, 2015.

I do hope you join and maybe even join me and the other Members of the WFPA's Creative Board as a song farmer at the Gathering.

Below is a 3.5 Minute summary of the work and the First Gathering coming up in September. It also explains why you and I are Song Farmers.
www.youtube.com/watch?v=e_JbQPHu4-c&feature=youtu.be

To join, please go to this link
http://www.woodsongs.com/wp-content/uploads/2014/12/GatheringFLYER.pdf

The members of the Creative Board are listed below:

The very best,
Josh

Michael Johnathon: folksinger and producer of the WoodSongs broadcast

Art Menius: founding Executive Director of IBMA, founding board member of Folk Alliance

Rik Palieri: Vermont folksinger and author

Dr. Ron Pen: Director of the John Jacob Niles Center for American Music (University of Kentucky)
,
Steve Martin: attorney, Board of IBMA, bluegrass DJ

Loretta Sawyer: Chicago publicist, roots agent and author

Raymond McLain: Director of the KY Center of Traditional Music (Morehead State University)

Kari Estrin: board of SERFA, International Folk Alliance, artist consultant and manager

Josh Dunson: agent, journalist-author, social activist and creative force behind Real People's Music for 40 years

==================================================




TOP ARTISTS OF AUGUST 2015
Compiled by Richard Gillmann from FOLKDJ-L playlists
Based on 12987 airplays from 134 different DJs www.folkradio.org

1. Harpeth Rising
2. Old Man Luedecke
3. Ana Egge
4. Crow And The Canyon
5. Audrey Auld
6. Bumper Jacksons
7. Peter Mayer
8. The Slocan Ramblers
9. Bob Dylan
10. Jonathan Edwards
11. Jesse Milnes And Emily Miller
12. Katie Dahl
12. The Waifs
14. Sarah McQuaid
15. Clint Alphin
15. Eilen Jewell
15. Peter Keane
18. Dan Schatz
19. Dubl Handi
20. John McCutcheon
20. Martha Scanlan
22. Karrnnel Sawitsky And Daniel Koulack
22. Richard Thompson
24. Iris DeMent
24. John Roberts And Debra Cowan
26. Jimmy Lafave
27. Corinne West
27. Heather Pierson Acoustic Trio
27. Pete Seeger
30. Amy Helm
30. Andrea Zonn
30. Anna And Elizabeth
30. Kaia Kater
34. Eric Bannan
35. Emmylou Harris And Rodney Crowell
35. Jefferson Ross
35. Peter, Paul And Mary
35. Pharis And Jason Romero
35. Steve Spurgin
40. Dana Cooper
40. The Hillbenders
40. The Honey Dewdrops
40. The Railsplitters
40. Roy Schneider
40. Willie Nelson And Merle Haggard

===============================================================

NEWS FROM TROUBADOUR PATRICK SYLVEST:

.http://www.patricksylvest.com is completely reconfigured and operational!

As 2014 closed, I was surprised on New Years Eve with a note from a friend, Singer Songwriter, Patrick Cooper in New Orleans congratulating me on a nice review in the latest issue of Offbeat Magazine! Imagine my surprise!

Laura DeFazio writes, "Gramercy-born singer/songwriter Patrick Sylvest remains firmly rooted to his beloved home state on his third effort, Lonesome Troubadour.

With an acoustic style that blends classic Americana/roots genres and showcases his impressive finger-picking abilities, he extols Louisiana's summertime pleasantries ("ice cold beers and warm sunshine"), takes a rollicking joyride through its dance-happy cities (think Tom Rush doing a hokier regional version of "On the Road Again"), and bemoans that "windbag houseguest that just won't leave" about Hurricane Isaac. The arc of the album begins with the sunny optimism of "Learn to Fly" only to fall to the depths of the grim resignation as "I'll give you all my heart and soul, 'til I can't write another note" wearily concludes the final cut.

The strongest tracks are the ones that incorporate diverse stylistic influences and instrumentation: the propulsive rhythm guitar and piano flourishes of the rockin' "Louisiana Traveling Jones," the gospel-style choruses and snappy staccato chords in "Ode to Rans McGaskey" and the spirited trad-jazz number "Have I Told You?," which features a clarinet and sounds like you'd hear on a night at Fritzel's.

Sylvest at times conveys a whisper of Gordon Lightfoot at his most wistful, and, given his knack for merging genres, it would be interesting to see what he would do with a tenser, rock-leaning rhythm section." http://www.offbeat.com/music/patrick-sylvest-lonesome-troubadour/


Thanks so much to Laura DeFazio and Offbeat Magazine for this kind and generous review!

I'm pleased that 2015 has me returning to perform at Flanagan's Creative Food and Drink , 1111 Audubon Avenue in Thibodaux, LA for Sunday Brunche April 19th from 11am until 2pm. I'd love to see you there!

Check out my new CD, 'Lonesome Troubadour', co-produced with Randy Walsh at Stray Records Studio in Bayou Goula, LA. Available from iTunes , and on CD and mp3 from CD Baby and at Hofman Music in Thibodaux, LA.

Have a Happy, Healthy, and Wealthy 2015 and I'll be looking forward to seeing y'all around!

Patrick Sylvest

http://airplaydirect.com/patricksylvest
https://www.facebook.com/patricksylvestmusic
http://www.patricksylvest.com

===================================================================

Northport N.Y. - M.C. Records is thrilled to announce that genre busting singer/songwriter, New Orleans based Dayna Kurtz will perform on the syndicated radio program eTown on May 3. She will share the stage with folk/bluesman Eric Bibb. Scroll down for all of Dayna's tour dates in the U.S. and Europe.

Dayna has always had fans from some of the most amazing songwriters including Bonnie Raitt and duet partner, Nora Jones. Now add Madeleine Peyroux to list. Here's what she said about "Rise And Fall."

It is great to hear an amazing voice but indescribable to hear an amazing soul. Thus this record and Dayna Kurtz are indescribable. I'm grateful for the discovery of a new old friend. - Madeleine Peyroux

Kurtz has achieved such distinctions as being named Female Songwriter of the Year by the National Academy of Songwriters. Norah Jones (with whom she later recorded a duet) and Bonnie Raitt have raved about her in interviews, she's performed on such high-profile radio shows as World Cafe, Mountain Stage and NPR's Morning Edition, and her singing was featured in a widely seen TV commercial for a prominent American hotel chain.

===================================================================

WXPN Radio posted the stream (and free download) of a new tribute
song tolegendary folk dj Gene Shay performed by 25 Philly based
artists. You can read and hear (and download) the song here:

http://thekey.xpn.org/2015/01/29/gene-shay-tribute-song/#more-150296

===================================================================

====================================================================

==================================================================

The Fabulous Bagasse Boyz

======================================================
NASHVILLE/NEW ORLEANS CONNECTION

Les Kerr has a new blog about the musical connection between Nashville and New Orleans. From Louis Armstrong's collaboration with Jimmie Rodgers to Del McCoury playing with the Preservation Hall Jazz Band, the connection continues at:

http://leskerr.wordpress.com/2013/07/12/the-nashville-new-orleans-musical-connection/

==========================================================

==========================================================

"Though it's impossible to pinpoint a particular moment when immigrants began inventing American music, a dramatic turning point surely occurred in 1804, the year a young nation made the Louisiana Purchase. President Thomas Jefferson sought to buy from the French just the city of New Orleans, because of its crucial value as a port. But a cash-strapped Napoleon sold the entire, still-uncharted Louisiana Territory for $15 million — roughly 4 cents an acre. In a single stroke, America became a thrilling, noisy eruption of sound."

http://www.chicagotribune.com/entertainment/music/ct-ae-0714-immigrant-music-20130713,0,6735268.column

================================================

=================================================

AIRPLAY ON JIM HOGG'S HOGG HEAVEN

Hi there,

I host a local BG / folk/gospel radio show that airs on several country stations on Sunday morning. If you have a recent recording that would reflect this format, please send along. I would be glad to air. Please let me know what song that you are trying to push.

I do this only as a labor of love for this kind of music and to promote local artist.

Thanks and tell your Mamma you love her.

Jim jimhogggroup@cox.net http://youtu.be/tfiXcyDWGso

======================================================

===================================================