======================================================================

Welcome Back To The Hootenany Power Pages, Folk and Roots Music Playlist, and Coming Events in Baton Rouge and surrounding areas. The Hootenanny Power radio show, since 1981 on WRKF Public Radio Baton Rouge. The live audio stream may be heard via computer, Saturday nights, 9 pm to midnight central time, at www.wrkf.org, or on the airwaves at 89.3

Hootenanny Power Live Streaming Only! Broadcast regulations and licensing make podcasting or archiving rights for music programs murky murky murky. Unless and until these matters are cleared up, Hootenanny Power will be live streaming only, 9 pm to midnight central time, Saturday nights http://www.wrkf.org

===========================================================================

===========================================================================

RED DRAGON LISTENING ROOM:

News from the Red Dragon: contact cmaxwell@premier.net

Red Dragon TheWebsite: www.reddragonlr.com

Reservations cmaxwell@premier.net
What about June?
We have a great June roster, but not nearly enough reservations. And we are WAY behind for our next big Manship Theatre show. On
Sat, June 25
we welcome
ELIZABETH COOK
and her whole band. Country music star, talk show favorite, radio host, singer, songwriter......and did I mention she is rather easy on the eye? But sales only scratch the surface of where they should be for an act this big. Take a minute and visit the Manship site for tickets.
www.ManshipTheatre.org
6/2/2016 - Jason Ringenberg
6/4/2016 - Eric Taylor --We just learned Eric was nominated for an Emmy award for musical compositions written for the Storyworks.TV documentary
Road Kid to Writer: The Tracks of Jim Tully
. Just before flying to Ohio for the awards gala, Eric will be performing a special concert at Red Dragon Listening Room on Saturday, June 4th.
=====================
ABOUT ERIC TAYLOR
Eric Taylor is a master storyteller and has been one of the finest southern songwriters for the last four decades. Influencing such well-known artists as Nanci Griffith, Lyle Lovett and Steve Earle, Taylor tours extensively throughout North America and Europe. He has released several critically acclaimed records, and has appeared on Austin City Limits, Late Night With David Letterman, NPR's "Morning Edition" and BBC Radio. A mesmerizing performer whose shows will leave you wanting more.
WHAT PEOPLE ARE SAYING ABOUT ERIC TAYLOR
"Taylor may sing of the past, of bar rooms and hay fields and even Johnny Cash, but his characters want the same things we do. They want love and redemption. They want some fun and happiness. They want respect and sometimes even a little vengeance. Taylor's people are just like us, it's just that their tales are exquisitely told." – Al Kaufman, Atlanta Music Guide
"I'm always the opening act when I'm around Eric. I love his voice, and he has a great narrative quality and sense of detail. He sort of takes you out of your own reality and into the reality of his songs. It's good writing no matter how you cut it." – Lyle Lovett
"He's the real deal. Eric Taylor was one of my heroes and teachers when I started playing around Houston in the early 1970s." – Steve Earle
"At first, the gift sounds impossible: A writer who can distill a novel or a deeply affecting tragic play into a song-poem of four minutes duration. And then you meet Eric Taylor and realize that such a person exists, and in our own time. Takes your breath every time." – Marilyn Rea Beyer, WUMB
"It should be said, that once you become a Taylor fanatic, it gives one immense joy and pride to be able to enlighten others to the man's work, as though he were a special reward, presented only on intimate occasions, to a deserving few. That's the effect he has on me. He's converted this tight, unwavering circle of supporters who feel that no distance is too great to travel for a night of Eric and will do it walking backwards, through tornado and forest fire to be there." – Iain Matthews
=====================

BIG show announcements...
The Red Dragon Listening Room has added our next Manship show to their website and seats are now available for:

Fri, Oct 14 PAUL THORN BAND $39-$69 FUGITIVE POETS open
Our other HUGE booking is now confirmed. The regular ole Red Dragon has booked

Fri, Dec 9 DAVID BROMBERG (solo) $50reg/$60vip opener TBA
***drop me a note to reserve.....we will forward a ticketing link in a couple of weeks***

A couple you may have missed:
Last week we announced two others. I get a report that shows only 1/4 of our membership opened that email.....so here they are again:
Thur, Oct 6 MICHAEL MARTIN MURPHEY $75reg/$85vip MARTIN FLANAGAN opens
Thur, Nov 17 CHRIS HILLMAN & HERB PEDERSEN $75reg/$85vip CLAY PARKER opens
Drop me a note to reserve. When we are full I will forward ticketing info. Thanks!!
cmaxwell@premier.net
.
=================================================================
Address:
7575 Jefferson Hwy, Baton Rouge, LA 70806
Editor's Note: Dyson House asks "Please ask your listeners to like us on Facebook for schedule updates." Were your faithful editor on Facebook, he would do that! ...
6/3 Mandolin Orange from Chapel Hill, NC
Mandolinorange.com
Bluegrass, American and Folk
Polly Pry-Baton Rouge
6/4 Honeyboy and Boots-Mobil, AL
honeyboyandboots.com
Folk and Blues
Ben Bell- Baton Rouge Singer Songwriter
6/11 Phatican 3-Baton Rouge
John Smart jazz trio.
6/23 Jim Avett-Patriarch of the boys
7/23 Rayo Brothers, Lafayette, LA
Denton Hatcher Baton Rouge, LA
8/20 Kristin Diable-Full Band
Americana, Soul and Rock and Roll
Kristindiable.com
$15 cover
8/27 The Wilder Janes CD Release Party

Thank you for supporting Live Music!
==================================================================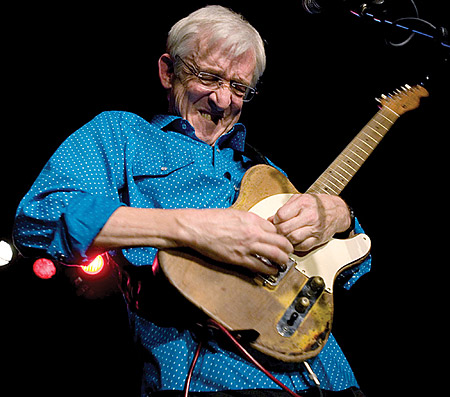 BILL KIRCHEN TO PERFORM IN ALEXANDRIA
WHO: Bill Kirchen and Too Much Fun
WHEN: Friday, June 10 at 10 pm
WHERE: Spirits, 1200 Texas Ave., Alexandria, LA
(318) 445-4491; spiritscenla.com
TICKETS: $20
Guitar Player Magazine dubbed him the "Titan of the Telecaster." Rolling Stone said he's "an American treasure" and "one of our best." "One of the best guitarists on the planet" says Elmore Magazine. No matter what you call him, Bill Kirchen is a founding father of the Americana movement, now at the peak of his impressive career. He'll bring his killer band (David Carroll on bass and Rick Richards on drums) to Spirits Food and Friends in Alexandria on Friday June 10 for a special show at 10pm.
Kirchen was originally known as co-founder and lead guitarist of Commander Cody and His Lost Planet Airmen, one of the first and only rock-n-roll bands to infuse their honky-tonk sound with pure, blood-and-guts country roots and western swing. It was Kirchen's indelible guitar licks that drove their hit, "Hot Rod Lincoln," into the Top Ten in 1972, a song that eventually took on a post-Cody life of its own. Today, Kirchen's extended version of "Hot Rod Lincoln" is his universally loved signature masterpiece, a pumped up joyride through the last 60 years of guitar-god history, described as "epic" by Rolling Stone.
In 2001, Kirchen received a Grammy nomination for his instrumental "Poultry in Motion." The following year he was inducted into the Washington Area Music Association Hall of Fame, neatly sandwiched between John Phillip Sousa and Dave Grohl. Kirchen has recorded and/or played guitar live with a who's who of Americana and Roots Rock 'N' Roll, among them Gene Vincent, Link Wray, Bo Diddley, Hazel Dickens, Doug Sahm, Hoyt Axton, Emmylou Harris, Maria Muldaur, Dan Hicks, and Nick Lowe. Bill is pretty sure that he is the only person to have, in a single year, stood on stage and played with both Ralph Stanley and Elvis Costello.
Kirchen has released 10 cd's on his own. The latest, Seeds and Stems, is a studio album that manages to capture the essence and vibe of Kirchen's live shows: his astounding guitar virtuosity and near-magical, joyous connection with his audience. Featured are some perpetual crowd-pleasers from the Cody days, like "Too Much Fun" and "Rockabilly Funeral"; also a sublime, poignant take on Dylan's "It Takes Alot to Laugh, It Takes a Train to Cry", and an amusing bonus track with old friend Jorma Kaukonen, finger-picking through a tune that asks the musical question, "Are You Talking 'Bout Love or Are You Talkin' 'Bout Chicken?"
Bill is currently touring with his all-star, all-Austin band: Rick Richards on drums and David Carroll on bass. Richards has made records and toured with Ray Wylie Hubbard, among many others. This brought him to the attention of Ringo Starr, whose recommendation led to the last three stadium tours drumming with Joe Walsh. David Carroll, a native of Baton Rouge, has played bass with a who's who of Austin artists, including stints with Billy Joe Shaver and Jerry Jeff Walker and a run with Ray Price.
Friday night promises to be a show you won't want to miss, a breath-taking display of Telecaster mastery covering the gamut of Americana roots influences.
===================================================================
BLUEGRASS NEWS: Bluegrass & Olde Tyme acoustic string music on the Rivers,Bayous and Roadside Ditches of Louisiana.
.
Sunday Jam in Beau Chene office park 7520 Perkins Road in Baton Rouge. Jamming outdoors under those oaks can start anytime. Most pickers are starting at 2 pm.
.
"The Claire Lynch Band" will return to Baton Rouge for its final tour appearance on Sunday Nov. 6!! Mark your calendar.
.
.
BRbluegrass@aol.com
.
https://www.facebook.com/batonrouge.bluegrass
http://brbluegrassassn.wix.com/brbg
.
2016 regular jams
.
1st Sun "Tom's Fiddle & Bow" Arnaudville,
1-4
pm
Feb 7

1st Sun "Hootenancy" at Birdman Cafe, St Francisville
5 pm
pot luck
Feb 7
2nd & 4th Sat - "Main Street Market" 5th & Main in BR -
11 am
'til 1 pm
www.oldtimemusic.com
www.msbga.org/events/eventlist
www.bluegrassdog.com
www.HootenannyPower.com
www.abitaopry.org
.
Baton Rouge Bluegrass Ass'n
(Jonathan Harris, Social Chairman /Janitor)
P O Box 4112, Baton Rouge LA 70821 (Louisiana)
BRbluegrass@aol.com
Tel. (225) 387-1600; Text 225.252.2708
Home of BlueGrass on the Bayou
Louisiana Bluegrass & Olde Tyme Music
.
.
HARRIS Law Firm - main financial supporter, preparing estate plans and last will and trust documents for the serious bluegrass fan concerned about his family and estate, and the perpetual care of his banjos, mandolins, violins and Martin guitars. Proceeds go to concerts and jams. HarrisLawFirm@aol.com
Gerard Furniture in BR - generous financial supporter, contributing to bringing in guest performers for Jams. Show support by visiting the store and mentioning "bluegrass."
Baton Rouge Bluegrass Ass'n
(Jonathan Harris, Social Chairman /Janitor)
P O Box 4112, Baton Rouge LA 70821 (Louisiana)
BRbluegrass@aol.com
Tel. (225) 387-1600
====================================================================
WHO: DARRELL SCOTT
WHAT: BATON ROUGE, LA PERFORMANCE
WHERE: RED DRAGON LISTENING ROOM
WHEN: WEDNESDAY, JUNE 22
SHOWTIME: 8:00 PM

Grammy-nominated singer/songwriter Darrell Scott will be performing at the Red Dragon Listening Room in Baton Rouge, LA on Wednesday, June 22. Yvette Landry will be opening and the show starts at 8:00 PM. Scott is touring in support of his album Couchville Sessions which released on May 13th via Full Light Records. The project has already garnered praise in Garden & Gun, Rolling Stone Country, American Songwriter and more.


Ever the unconventional artist, Scott has always forged his own path. He has penned hit songs for mainstream artists, and has had songs covered by over 70 others spanning from from Keb Mo' to Mary Gauthier. In 2012 Scott recorded and toured as part of Robert Plant's brilliant Band Of Joy, gaining him even more respect and admiration from a wider range of musicians in broader genres. Couchville Sessions is Scott's first solo album since Long Ride Home in 2012.

Scott's approach to making music parallels the way he also has chosen to live. Currently making his home outside of Nashville, on the Cumberland Plateau, he focuses on a sustainable lifestyle, heating with wood, utilizing solar energy and growing his food. The fourteen songs on Couchville Sessions are a natural and inevitable product of this pure and unapologetic approach to making music and living life.

The material on the album is comprised of mostly Darrell Scott originals, mixed with a few carefully chosen nods to "the masters" including Hank Williams, Johnny Cash, and Townes Van Zandt. Scott tackles profound issues - demise of relationships in "Time To Go Away", mortality "It's Another Day To Live And Die" and depression in "Another Grey Morning" (James Taylor), but delivers them in such a way that there's a sense and light and comfort in this collection.

The musicians gathered together for this recording are a hand-picked group of virtuosos including acclaimed English musician Danny Thompson on bass, percussionist Kenny Malone, ste
el guitar wiz Dan Dugmore, and Bill Payne (Little Feat/The Doobie Brothers) on piano and organ. Special guest appearances include vocals by Peter Rowan, John Cowan, and a rare narration by Guy Clark. The result is a collection of stunning and fearlessly played tracks, mostly recorded live, which offer the perfect backdrop for Scott's mesmerizing vocals.

The way in which Darrell Scott lives and creates, his love and respect for "the masters", and the unapologetic way he in which he approaches life across the board are just some of his beautiful and unique qualities. Couchville Sessions captures that spirit.
====================================================================
NEWS FROM TROUBADOUR PATRICK SYLVEST:
Louisiana Folk, 'Music and People' podcast episode #1 is published!
http://louisianafolk.podomatic.com/
Download http://louisianafolk.podomatic.com/enclosure/2016-01-24T03_30_14-08_00.mp3
"Louisiana Folk, Music and People", was conceived to share the songwriting of Patrick Sylvest and the many wells from which he draws his inspiration. In this first podcast, Patrick Interviews Author, Thomas Ard Sylvest, who also happens to be his 90 year old Dad. Please, give a listen!
Upcoming performances:
April 16th, Jolie Pearl Oyster Bar, Baton Rouge; I'll perform in a songwriter circle some time between 1:00 and 6:15 for the 3rd street songwriter festival.
Patrick Sylvest
http://airplaydirect.com/patricksylvest
https://www.facebook.com/patricksylvestmusic
http://www.patricksylvest.com
================================================================
JUST RELEASED CD: THE MID-CITY ACES
http://www.louisianamusicfactory.com/shop/compact-disc/gina-forsyth-mid-city-aces/

==========================================================

TOP ARTISTS OF MARCH 2016 www.folkradio.org
Compiled by Richard Gillmann from FOLKDJ-L playlists
Based on 14009 airplays from 141 different DJs

1. Gathering Time
2. David Francey
3. Solas
4. Loretta Lynn
5. Carla Ulbrich
6. Infamous Stringdusters
7. Corin Raymond
7. Laurie Lewis And The Right Hands
9. Eli West
10. Monica Rizzio
11. Kate Campbell
11. Moors And McCumber
13. Willie Nelson
14. Terri Hendrix
15. Denise Jordan Finley
16. Burning Bridget Cleary
16. Victor And Penny
18. Bob Dylan
18. Frank Solivan
18. Goodbye Blue
18. Greg Brown
22. Rebecca Folsom
23. Dori Freeman
23. No Fuss And Feathers
25. Eileen Ivers
25. The Paul McKenna Band
25. Steve Young
28. Honor Finnegan
29. Robert Bobby
30. Robinlee Garber
30. Scott Wolfson And Other Heroes
32. Birds Of Chicago
32. Pete Seeger
34. Tim O'Brien
35. Curtis And Loretta
35. Free The Honey
35. Kathy Kallick
38. Beatles
38. Judy Kass
40. Amy White
40. David Mallett
40. Wren


====================================================================

From Josh Dunson

Dear Family, Friends and Folk Music Leaders,

In my 74 years, this is the first time I have ever asked you or anyone else to join me as a member of a folk and/or advocacy organization.

I am proud to be a Creative Board member and dues paying member of the WoodSongs Front Porch Association (WFPA), a non-profit group that has successfully started a major grassroots push to involve K-12 schools in lesson plans around traditional music and to begin school performer coffee houses both in the school and in community based venues. The $20 (single) and $25 (family and/or band up to 5 members) covers your admission to the two-day gathering to be held at the Museum of Appalachia just north of Knoxville on September 25 and 26, 2015.

I do hope you join and maybe even join me and the other Members of the WFPA's Creative Board as a song farmer at the Gathering.

Below is a 3.5 Minute summary of the work and the First Gathering coming up in September. It also explains why you and I are Song Farmers.
www.youtube.com/watch?v=e_JbQPHu4-c&feature=youtu.be

To join, please go to this link
http://www.woodsongs.com/wp-content/uploads/2014/12/GatheringFLYER.pdf

The members of the Creative Board are listed below:

The very best,
Josh

Michael Johnathon: folksinger and producer of the WoodSongs broadcast

Art Menius: founding Executive Director of IBMA, founding board member of Folk Alliance

Rik Palieri: Vermont folksinger and author

Dr. Ron Pen: Director of the John Jacob Niles Center for American Music (University of Kentucky)
,
Steve Martin: attorney, Board of IBMA, bluegrass DJ

Loretta Sawyer: Chicago publicist, roots agent and author

Raymond McLain: Director of the KY Center of Traditional Music (Morehead State University)

Kari Estrin: board of SERFA, International Folk Alliance, artist consultant and manager

Josh Dunson: agent, journalist-author, social activist and creative force behind Real People's Music for 40 years

==================================================




===================================================================

Northport N.Y. - M.C. Records is thrilled to announce that genre busting singer/songwriter, New Orleans based Dayna Kurtz will perform on the syndicated radio program eTown on May 3. She will share the stage with folk/bluesman Eric Bibb. Scroll down for all of Dayna's tour dates in the U.S. and Europe.

Dayna has always had fans from some of the most amazing songwriters including Bonnie Raitt and duet partner, Nora Jones. Now add Madeleine Peyroux to list. Here's what she said about "Rise And Fall."

It is great to hear an amazing voice but indescribable to hear an amazing soul. Thus this record and Dayna Kurtz are indescribable. I'm grateful for the discovery of a new old friend. - Madeleine Peyroux

Kurtz has achieved such distinctions as being named Female Songwriter of the Year by the National Academy of Songwriters. Norah Jones (with whom she later recorded a duet) and Bonnie Raitt have raved about her in interviews, she's performed on such high-profile radio shows as World Cafe, Mountain Stage and NPR's Morning Edition, and her singing was featured in a widely seen TV commercial for a prominent American hotel chain.

===================================================================

WXPN Radio posted the stream (and free download) of a new tribute
song tolegendary folk dj Gene Shay performed by 25 Philly based
artists. You can read and hear (and download) the song here:

http://thekey.xpn.org/2015/01/29/gene-shay-tribute-song/#more-150296

===================================================================

====================================================================

==================================================================

The Fabulous Bagasse Boyz

======================================================
NASHVILLE/NEW ORLEANS CONNECTION

Les Kerr has a new blog about the musical connection between Nashville and New Orleans. From Louis Armstrong's collaboration with Jimmie Rodgers to Del McCoury playing with the Preservation Hall Jazz Band, the connection continues at:

http://leskerr.wordpress.com/2013/07/12/the-nashville-new-orleans-musical-connection/

==========================================================

==========================================================

"Though it's impossible to pinpoint a particular moment when immigrants began inventing American music, a dramatic turning point surely occurred in 1804, the year a young nation made the Louisiana Purchase. President Thomas Jefferson sought to buy from the French just the city of New Orleans, because of its crucial value as a port. But a cash-strapped Napoleon sold the entire, still-uncharted Louisiana Territory for $15 million — roughly 4 cents an acre. In a single stroke, America became a thrilling, noisy eruption of sound."

http://www.chicagotribune.com/entertainment/music/ct-ae-0714-immigrant-music-20130713,0,6735268.column

================================================

=================================================

AIRPLAY ON JIM HOGG'S HOGG HEAVEN

Hi there,

I host a local BG / folk/gospel radio show that airs on several country stations on Sunday morning. If you have a recent recording that would reflect this format, please send along. I would be glad to air. Please let me know what song that you are trying to push.

I do this only as a labor of love for this kind of music and to promote local artist.

Thanks and tell your Mamma you love her.

Jim jimhogggroup@cox.net http://youtu.be/tfiXcyDWGso

======================================================

===================================================