======================================================================

Welcome Back To The Hootenanny Power Pages, Folk and Roots Music Playlist, and Coming Events in Baton Rouge and surrounding areas. The Hootenanny Power radio show, since 1981 on WRKF Public Radio Baton Rouge. The live audio stream may be heard via computer, Saturday nights, 9 pm to midnight central time, at www.wrkf.org, or on the airwaves at 89.3

Hootenanny Power Live Streaming Only! Broadcast regulations and licensing make podcasting or archiving rights for music programs murky murky murky. Unless and until these matters are cleared up, Hootenanny Power will be live streaming only, 9 pm to midnight central time, Saturday nights http://www.wrkf.org

=======================================================================

Old Feed Store Music series hosted by the Marsolan Feed and Seed Store (316 E Gibson street) in downtown Covington:

Sooey, sooey, pig pig pig . . . it's time to slop them hogs, feed them chickens, oat them goats and cud them cows. And for all of your slopping, feeding, oating and cudding needs there's no better place than Marsolan's Feed Store at 316 Gibson Street in downtown Covington, LA. They's got everything you could possibly want from a feed store and more. And if by perchance and amazing coincidence you happen to decide to stock up on supplies on Saturday, May 30th at around noon, you will get, at no extra cost we might add, the added bonus of the musical musings of The Fabulous Bagasse Boyz! What a deal, livestock feed, bad jokes and bluegrass style music all at one shot. It's a match made in heaven. And iffen you haven't seen The Fabulous Bagasse Boyz in a while, you'll be glad to know that we have learned two new jokes and one new song in the last five years so we are au currante in the musical genre.

For more info you can go to:

https://www.facebook.com/OldFeedStoreMusic?fref=ts
https://www.facebook.com/pages/The-Fabulous-Bagasse-Boyz/311616425552088?fref=ts


And for a real treat, you can go to here and click on "Videoz" and see "The Boyz" in action.
http://www.bagasseboyz.com/#
!

We hope to see you there!


May 30 The Fabulous Bagasse Boyz

===================================================================

RED MOLLY COMES TO BATON ROUGE FRIDAY 10 JULY 2015

8 PM

www.manshiptheatre.org 225-344-0334

===================================================================

JUNIOR BROWN AT THE MANSHIP JUNE 25 2015

=================================================================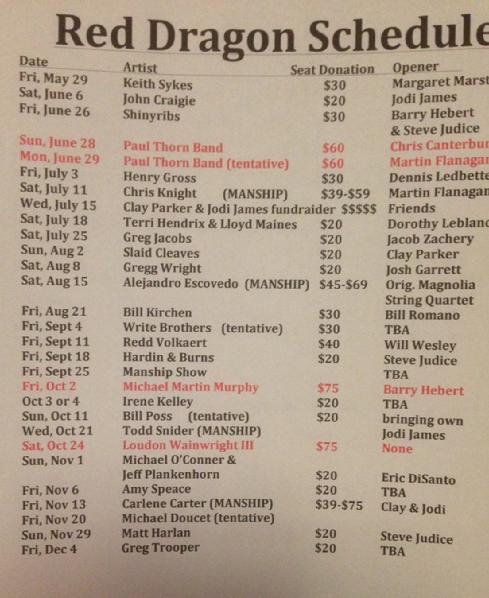 RED DRAGON LISTENING ROOM:
News from the Red Dragon: contact cmaxwell@premier.net
Red Dragon TheWebsite: www.reddragonlr.com
MANSHIP SHOWS ANNOUNCED BY RED DRAGON'S CHRIS MAXWELL cmaxwell@premier.net

Chris Knight.....
On Sat, July 11 CHRIS KNIGHT returns to the Manship Theatre. Dark and incredible songs.....if you don't know his music you have been missing out. MARTIN FLANAGAN will open the show. Speaking of dark, check this one out:

Alejandro Escovedo.....
On Fri, Aug 15 we are proud to be hosting ALEJANDRO ESCOVEDO. This will be our first show with Alejandro. He has been on our wish list for years. The show will be opened by the ORIGINAL MAGNOLIA STRING QUARTET

Carlene Carter.....
Fresh off of her massively successful tour with JOHN MELLENCAMP, CARLENE CARTER will play the Manship on Fri, November 13. The edgiest member of the famed CARTER FAMILY, you don't want to miss this one. CLAY PARKER & JODI JAMES will open the show.
Seats available at WWW.MANSHIPTHEATRE.ORG
====================================================================



Keith Sykes.....
PARROT HEADS know KEITH SYKES.
JOHN PRINE fans know KEITH SYKES.
Lovers of great songs know KEITH SYKES.
If you don't know him, you should discover
KEITH SYKES.
We have Keith returning to the Red Dragon on Friday, May 29. If you haven't seen him at one of our shows or missed him when he opened for JOHN PRINE at the River Center, this is your chance. Seats are $30, VIP seats are $40 and songbird MARGARET MARSTON opens the show. BTW.....prepare to be blown away by Miss Marston.....she is INCREDIBLE!!!!
PAUL THORN
The great PAUL THORN.....
We got to thinking that our Sunday, June 28 PAUL THORN show just wouldn't satisfy all of his fans. So we are holding Paul over for a second show on Monday, June 29! Seats are $60.....$70 for VIP couch seats. If you would like to reserve, plan on mailing a check. We can't afford any "no-shows" on Paul. I know it is inconvenient, but it was beyond inconvenient when we had 17 no-shows for David Lindley's show......it cost me $850......something I just can't afford. It also left seats, including front row seats, empty for an entire show. So let me know if you would like to attend. Specify which show. Then mail your check (made out to the Red Dragon Listening Room) to:
Chris Maxwell
8631 Rainwood Ave.
Baton Rouge, LA 70810

Dad, chris m cmaxwell@premier.net
As I keep stressing, we are now a 501 (c) 3 Federal non-profit corporation. Checks are tax deductible and can be made out to LOUISIANA AMERICANA & FOLK SOCIETY and mailed to 8631 Rainwood Ave, Baton Rouge, LA 70810. cmaxwell@premier.net

==============================================================

Guy Carawan obituary:
In 1965, the US president Lyndon Johnson announced a new voting rights bill to enfranchise African Americans, ending with the words "And we shall overcome". His reference was to the song We Shall Overcome, which had been introduced to the US civil rights movement by Guy Carawan, the folk singer and political activist, who has died aged 87.
The origins of the song lay in African-American religious music, but as We Will Overcome it was taken up by striking tobacco workers, black and white, in 1945. Some of them later sang it at the Highlander Folk school, an adult education centre for union organisers in Monteagle, Tennessee, where Zilphia Horton, the school's music director, taught the song to union and civil rights activists, including Pete Seeger, who changed its title to We Shall Overcome.
After Horton's death, Carawan became the school's music director in 1959, by which time Highlander's focus had become centred on civil rights as the anti-segregation sit-ins and bus boycotts grew. A gathering of activists held in Raleigh, North Carolina, in April 1960 established the Student Nonviolent Coordinating Committee (SNCC), and at the end of the meeting Carawan sang them his version of We Shall Overcome, by now with some new verses and an altered tempo.
Within weeks, the song was being sung on protest marches and sit-ins and by the bus protesters, quickly becoming the unofficial anthem of the civil rights movement. Joan Baez sang it at the March on Washington in 1963, Martin Luther King recited the words in a speech shortly before his assassination and Robert Kennedy sang it in apartheid South Africa....
http://www.theguardian.com/music/2015/may/06/guy-carawan
==============================================================

Above, Pharis and Jason Romero
TOP ARTISTS OF APRIL 2015 www.folkradio.org
Compiled by Richard Gillmann from FOLKDJ-L playlists
Based on 12996 airplays from 144 different DJs
1. Pharis And Jason Romero
2. Chuck Brodsky
3. Anna And Elizabeth
4. April Verch
4. Spuyten Duyvil
6. Elaine Romanelli
7. Tom Paxton
8. Tom Russell
9. Rhiannon Giddens
10. Robert Earl Keen
11. Joni Mitchell
11. Rani Arbo And Daisy Mayhem
13. Le Vent Du Nord
14. Trout Steak Revival
15. Bob Dylan
16. Gene And Gayla Mills
16. Jayme Stone
16. Moors And McCumber
19. The Foghorn String Band
19. Pete Seeger
19. Richard Thompson
22. The Burns Sisters
23. Natalie MacMaster And Donnell Leahy
24. The Steel Wheels
25. Danielle Miraglia
25. John McCutcheon
25. Norah Rendell
28. Amy Speace
28. The Gibson Brothers
28. Joel Mabus
28. Neptune's Car
32. John Renbourn
32. Leaf Rapids
32. The Stray Birds
35. Asleep At The Wheel
35. Joel Rafael
35. The Levins
38. Michael Jerome Browne
38. Norman Blake
40. Eliza Gilkyson
40. Jory Nash
40. The Lied To's
40. The Onlies

===========================================================
BLUEGRASS NEWS:
Sundays: We are proposing to move the regular Sunday bluegrass jam to CHELSEA'S at the Perkins Road overpass, soon, maybe next week. Sounds like a good idea, but we are not sure how Chelsea's will take the news. There will be an exploratory meeting at Chelsea's on Sunday at 3 pm, for those who don't want to go to the Highland Games jam
==
Sunday 9-5 (same) - Admission fee is $9. (a bargain).

Join us for at the Rural Life Museum
in Baton Rouge, La on May 23 & 24, 2015 for the 10th Annual Highland Games of Louisiana. This is a great event for the entire family featuring a full schedule of activities that will make for a fun and memorable experience. Activities and highlights include a Celtic Jam on Sunday afternoon at 4 pm. [You bluegrassers need to sharpen up on Billy in the Lowland (low ground), Jerusalem Ridge, Red Haired Boy, Flowers of Edinburg, Whiskey B4 Breakfast, Give the Fiddler a Dram, Whiskey in the Jar, Bonapart's Retreat, Bonapart Crossing the Rhine, etc., etc.] http://highlandgamesoflouisiana.website/

Great news, We have a new "home."
Baton Rouge Bluegrass Ass'n
(Jonathan Harris, Social Chairman /Janitor)
P O Box 4112, Baton Rouge LA 70821 (Louisiana)
BRbluegrass@aol.com
Tel. (225) 387-1600; Text 225.252.2708
Home of BlueGrass on the Bayou
Louisiana Bluegrass & Olde Tyme Music
.
.
HARRIS Law Firm - main financial supporter, preparing estate plans and last will and trust documents for the serious bluegrass fan concerned about his family and estate, and the perpetual care of his banjos, mandolins, violins and Martin guitars. Proceeds go to concerts and jams. HarrisLawFirm@aol.com
Gerard Furniture in BR - generous financial supporter, contributing to bringing in guest performers for Jams. Show support by visiting the store and mentioning "bluegrass."
Baton Rouge Bluegrass Ass'n
(Jonathan Harris, Social Chairman /Janitor)
P O Box 4112, Baton Rouge LA 70821 (Louisiana)
BRbluegrass@aol.com
Tel. (225) 387-1600
================================================================
THE AMERICAN EPIC SESSIONS
Jack White, T Bone Burnett and Robert Redford will present American Epic, a three-part documentary set to air this fall on PBS and BBC Arena. According to a press release, the film "follows the trail of record company talent scouts from the late 1920s as they toured American with a recording machine to capture the raw expression of an emerging culture whose recordings would lead to the development of blues, country, gospel and more." American Epic is directed by Bernard MacMahon.



Accompanying the documentary is The American Epic Sessions, a release that features performances from the likes of Alabama Shakes, The Americans, The Avett Brothers, Beck, Frank Fairfield, Ana Gabriel, Rhiannon Giddens, Merle Haggard, Bobby Ingano, Elton John, Auntie Geri Kuhia, Pokey LaFarge, Bettye LaVette, Los Lobos, Lost Bayou Ramblers, Taj Mahal, Steve Martin & Edie Brickell, Fred Martin and The Levite Camp, Ashley Monroe, Nas, Willie Nelson, Charlie Kaleo Oyama, Blind Boy Paxton, Raphael Saadiq, and Jack White.



The release will feature the musicians recording on the same machine that is portrayed in the film. White's Third Man Records is also releasing a vinyl box set of the sessions.



http://www.jambands.com/news/2015/04/08/jack-white-t-bone-burnett-and-robert-redford-present-new-documentary-american-epic/
=============================================================
GINA FORSYTH WORKING AN A NEW CD .. AND YOU CAN HELP!

https://www.indiegogo.com/projects/gina-forsyth-s-new-fiddle-cd
===============================================================
NEWS FROM TROUBADOUR PATRICK SYLVEST:
.http://www.patricksylvest.com is completely reconfigured and operational!
As 2014 closed, I was surprised on New Years Eve with a note from a friend, Singer Songwriter, Patrick Cooper in New Orleans congratulating me on a nice review in the latest issue of Offbeat Magazine! Imagine my surprise!
Laura DeFazio writes, "Gramercy-born singer/songwriter Patrick Sylvest remains firmly rooted to his beloved home state on his third effort, Lonesome Troubadour.
With an acoustic style that blends classic Americana/roots genres and showcases his impressive finger-picking abilities, he extols Louisiana's summertime pleasantries ("ice cold beers and warm sunshine"), takes a rollicking joyride through its dance-happy cities (think Tom Rush doing a hokier regional version of "On the Road Again"), and bemoans that "windbag houseguest that just won't leave" about Hurricane Isaac. The arc of the album begins with the sunny optimism of "Learn to Fly" only to fall to the depths of the grim resignation as "I'll give you all my heart and soul, 'til I can't write another note" wearily concludes the final cut.
The strongest tracks are the ones that incorporate diverse stylistic influences and instrumentation: the propulsive rhythm guitar and piano flourishes of the rockin' "Louisiana Traveling Jones," the gospel-style choruses and snappy staccato chords in "Ode to Rans McGaskey" and the spirited trad-jazz number "Have I Told You?," which features a clarinet and sounds like you'd hear on a night at Fritzel's.
Sylvest at times conveys a whisper of Gordon Lightfoot at his most wistful, and, given his knack for merging genres, it would be interesting to see what he would do with a tenser, rock-leaning rhythm section." http://www.offbeat.com/music/patrick-sylvest-lonesome-troubadour/

Thanks so much to Laura DeFazio and Offbeat Magazine for this kind and generous review!
I'm pleased that 2015 has me returning to perform at Flanagan's Creative Food and Drink , 1111 Audubon Avenue in Thibodaux, LA for Sunday Brunche April 19th from 11am until 2pm. I'd love to see you there!
Check out my new CD, 'Lonesome Troubadour', co-produced with Randy Walsh at Stray Records Studio in Bayou Goula, LA. Available from iTunes , and on CD and mp3 from CD Baby and at Hofman Music in Thibodaux, LA.
Have a Happy, Healthy, and Wealthy 2015 and I'll be looking forward to seeing y'all around!
Patrick Sylvest
http://airplaydirect.com/patricksylvest
https://www.facebook.com/patricksylvestmusic
http://www.patricksylvest.com
===================================================================
Northport N.Y. - M.C. Records is thrilled to announce that genre busting singer/songwriter, New Orleans based Dayna Kurtz will perform on the syndicated radio program eTown on May 3. She will share the stage with folk/bluesman Eric Bibb. Scroll down for all of Dayna's tour dates in the U.S. and Europe.
Dayna has always had fans from some of the most amazing songwriters including Bonnie Raitt and duet partner, Nora Jones. Now add Madeleine Peyroux to list. Here's what she said about "Rise And Fall."
It is great to hear an amazing voice but indescribable to hear an amazing soul. Thus this record and Dayna Kurtz are indescribable. I'm grateful for the discovery of a new old friend. - Madeleine Peyroux
Kurtz has achieved such distinctions as being named Female Songwriter of the Year by the National Academy of Songwriters. Norah Jones (with whom she later recorded a duet) and Bonnie Raitt have raved about her in interviews, she's performed on such high-profile radio shows as World Cafe, Mountain Stage and NPR's Morning Edition, and her singing was featured in a widely seen TV commercial for a prominent American hotel chain.
Tues April 28 New Orleans LA Cafe Istanbul 10pm w/special guests!
Sun May 3 eTown Taping with Eric Bibb - Boulder CO
===================================================================
NEWS FROM KERRVILLE FOLK FESTIVAL
Kerrville has an underwriter this year that has enabled us to bring EMMYLOU HARRIS AND RODNEY CROWELL to Kerrville for their first appearance here!!! The date, will be Saturday May 23rd.
What we know so far by weekend:
First Weekend - Elizabeth McQueen, Peter Case, Emmylou Harris & Rodney Crowell, Joe Crookston, Rj Cowdery, Ellis, Amy Speace, The Don Juans, Mt. Thelonious, Ari Hest, David Wilcox....
Second Weekend - Tom Rush, Steve Seskin/Allen Shamblin, Roy Bookbinder, Gurf Morlix, Ray Bonneville, Sam Baker, Joel Rafael, John Fullbright, Matt Nakoa, Ronny Cox, Jack Williams...
Third Weekend - Ruthie Foster, The Carper Family, Nora Jane Struthers & the Party Line, Trout Fishing in America, 2014 New Folk in the Round including Matt Nakoa, Frank Martin Gilligan, Caroline Spence, C. Daniel Boling, Connor Garvey and The Lovebirds, Wood & Wire, The Chubby Knuckle Choir...
Joe King Carrasco, Javier Chaparro, Tejas Brothers, Elephant Revival, MilkDrive, Caroline Aiken are planning to come this year but are still to be placed in a particular spot.
We will continue to announce as the confirmations and contracts are finished.
AND The Songwriters, Blues Guitar, Harmonica and Ukulele Faculties are mostly done and ready to accept registrants.
AND AND Grassy Hill Kerrville New Folk needs YOU!!! Our listeners are ready to hear your songs but the entries are coming in a bit slower this year. So if you are a songwriter and haven't entered yet please go to http://www.kerrville-music.com/newfolk.htm You will just be so glad that you did.
AND AND AND tickets are still at a 15% discount... http://www.kerrville-music.com/
================================================================
WXPN Radio posted the stream (and free download) of a new tribute
song tolegendary folk dj Gene Shay (who retires on Sunday) performed by 25 Philly based
artists. You can read and hear (and download) the song here:
http://thekey.xpn.org/2015/01/29/gene-shay-tribute-song/#more-150296
===================================================================
====================================================================
==================================================================
The Fabulous Bagasse Boyz
======================================================
NASHVILLE/NEW ORLEANS CONNECTION

Les Kerr has a new blog about the musical connection between Nashville and New Orleans. From Louis Armstrong's collaboration with Jimmie Rodgers to Del McCoury playing with the Preservation Hall Jazz Band, the connection continues at:

http://leskerr.wordpress.com/2013/07/12/the-nashville-new-orleans-musical-connection/

==========================================================

==========================================================

"Though it's impossible to pinpoint a particular moment when immigrants began inventing American music, a dramatic turning point surely occurred in 1804, the year a young nation made the Louisiana Purchase. President Thomas Jefferson sought to buy from the French just the city of New Orleans, because of its crucial value as a port. But a cash-strapped Napoleon sold the entire, still-uncharted Louisiana Territory for $15 million — roughly 4 cents an acre. In a single stroke, America became a thrilling, noisy eruption of sound."

http://www.chicagotribune.com/entertainment/music/ct-ae-0714-immigrant-music-20130713,0,6735268.column

================================================

=================================================

AIRPLAY ON JIM HOGG'S HOGG HEAVEN

Hi there,

I host a local BG / folk/gospel radio show that airs on several country stations on Sunday morning. If you have a recent recording that would reflect this format, please send along. I would be glad to air. Please let me know what song that you are trying to push.

I do this only as a labor of love for this kind of music and to promote local artist.

Thanks and tell your Mamma you love her.

Jim jimhogggroup@cox.net http://youtu.be/tfiXcyDWGso

======================================================

===================================================