======================================================================

Welcome Back To The Hootenanny Power Pages, Folk and Roots Music Playlist, and Coming Events in Baton Rouge and surrounding areas. The Hootenanny Power radio show, since 1981 on WRKF Public Radio Baton Rouge. The live audio stream may be heard via computer, Saturday nights, 9 pm to midnight central time, at www.wrkf.org, or on the airwaves at 89.3

Hootenanny Power Live Streaming Only! Broadcast regulations and licensing make podcasting or archiving rights for music programs murky murky murky. Unless and until these matters are cleared up, Hootenanny Power will be live streaming only, 9 pm to midnight central time, Saturday nights http://www.wrkf.org

=======================================================================

From www.WFMT.com
8:00
pm

- 12:00

am August 8, 2015
The Midnight Special With Rich Warren & Friends
A special four-hour edition with a studio audience. Rich is joined by fellow radio hosts and folk-music enthusiasts Taylor Caffery (WRKF/Baton Rouge), Wanda Fischer (WAMC/Albany), and John Platt (WFUV/New York City).
=======================================================================
CALMES HOUSE CONCERTS GOES ONCE MORE UNTO THE 70'S
Yes, we're going to do it again at Calmes House Concerts. We're going to beam you back, back to 1970 and move forward to 1979. That's right, it's time for the 2nd annual 70's house concert, featuring John Kirby on keyboards, guitar and vocals, Bailey Bourgeois on drums and vocals, and Robert Calmes on guitar and vocals. You will hear again some of the songs we played last summer along with some songs we did not cover last year.
I have my fiber optic lamps and lava lamps and my Styx poster ready. We will mix some Tequila Sunrises at intermission. You get the idea . . . .
There is no suggested donation amount for this concert, but we will pass the hat to offset the bands' travel expenses during rehearsals—since gasoline is no longer 48 cents/gallon as it was in 1973, when I was driving a Pontiac Grand Prix, bought for around $5,000, and buying a McDonald's Quarter Pounder for 55 cents.
We may make quiche for the concert, and anyone who wants to contribute to the table should feel free to provide something particularly 70's if you like.
By the way, the Calmes house was built in 1973, has the original paneling and torginol flooring—so the perfect venue.
When?—Saturday, August 15th at 7 P.M.
Where? Calmes House Concerts---11143 Lazy Lake Drive
How Much?—Man! Such a materialist question!
If you can dig it, come hang out with us at our crib. It's better than staying home and cranking up the Marantz. Let us know if you plan to be here.
Good night, John Boy.
Robert and Dianne Calmes calmeshouseconcerts@gmail.com

=======================================================================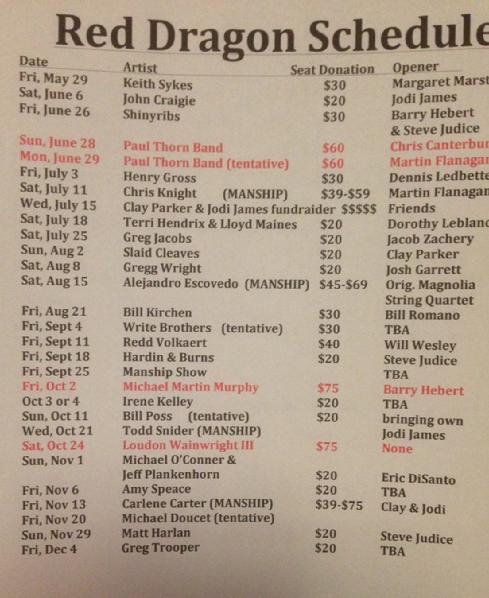 RED DRAGON LISTENING ROOM:
News from the Red Dragon: contact cmaxwell@premier.net
Red Dragon TheWebsite: www.reddragonlr.com
MANSHIP SHOWS ANNOUNCED BY RED DRAGON'S CHRIS MAXWELL cmaxwell@premier.net
Two Sellouts.......kinda!!!
All VIP seats for SLAID CLEAVES are now spoken for. We do still have regular seats available. The show is Sunday, Aug 2 at 7pm (earlier than usual). I'll let you know when the regular seats are gone. They are $20 each. I knew this one would sell out!

All VIP seats are also SOLD OUT for MICHAEL MARTIN MURPHEY. The show is Sat, Oct 2 and I am beyond amazed that we still have ANY seats left. This is a big event for us. If you would like some of the remaining regular seats, drop me a note. ($75 each)


Other shows that will sell out...
I am tracking four other shows that I expect to eventually sell out. Check em out:
Aug 22 KINKY FRIEDMAN ($50)
Sept 25 WILLIS ALAN RAMSEY ($40)
Oct 24 LOUDON WAINWRIGHT III ($75)
Nov 20 MICHAEL DOUCET & FRIENDS ($50)
August schedule......
We have an awesome concert schedule for the month of August. For the three Dragon shows, just drop me a note to reserve. For the ALEJANDRO ESCOVEDO show, go to
www.ManshipTheatre.org

>
> Sat, Aug 8 GREGG WRIGHT $20
> Sat, Aug 15 ALEJANDRO ESCOVEDO (at Manship Theatre) $39-$55
> *** www.ManshipTheatre.org
> ***
> Fri, Aug 21 BILL KIRCHEN $20
> Sat, Aug 22 KINKY FRIEDMAN $50

More Manship shows.....
The Red Dragon Songwriters Series still has three more shows in our 2015 Season. Mark your calendars and make your reservations now!!
Wed, Oct 21 TODD SNIDER JODI JAMES opens
Fri, Nov 13 CARLENE CARTER CLAY PARKER & JODI JAMES open
Again, seats are available at www.ManshipTheatre.org

As I keep stressing, we are now a 501 (c) 3 Federal non-profit corporation. Checks are tax deductible and can be made out to LOUISIANA AMERICANA & FOLK SOCIETY and mailed to 8631 Rainwood Ave, Baton Rouge, LA 70810. cmaxwell@premier.net

==============================================================
BLUEGRASS NEWS:
James Linden Hogg, 15, of Prairieville, was the winner of the 2015 Louisiana State Fiddle Championship held in Magale Recital Hall at Northwestern State University as part of the 36th annual Natchitoches-NSU Folk Festival held July 17-18.
"I am very humbled to receive this prestigious Louisiana State Fiddle Championship award from the Natchitoches-NSU Folk Festival, as there were many excellent fiddle players that represented Louisiana proudly," Hogg said. "I really enjoyed playing onstage with some great fiddle players."
Hogg won the 21-and-under championship division....
http://theadvocate.com/news/weeklies/12989271-123/prairieville-teen-wins-fiddling-competition
.
We are happy to report that there is much live acoustic music in the area and plenty of bluegrass music around.
.
Reminders:
.
4th Saturday morning bluegrass jam at the Main street Market in BR at 11 am.
.
Sunday afternoon jam at Bass Pro restaurant in Denham Springs 3 - 7 pm. We have enjoyed seeing long time pickers drop in and many new ones.
Deering Banjo for sale:
A like-new Deering 'Sierra' banjo with case, accessories, etc. is available for purchase. Owner has been disabled from playing and wants to pass it on to deserving picker.
We have a new shipment of embroidered "Baton Rouge Bluegrass" and "Louisiana Bluegrass" T-shirts, Polo shirts, short-sleeved and long sleeved dress shirts in white and in blue (pictured), oxford and broadcloth. [The collared polo and dress shirts are perfect outfits for your band.] All shirts are sold at or below our cost and are reserved for pickers (and spouses). And if you are short of cash, we take IOU's, guitar strings, spare parts, and in-kind services in trade. Better yet, when you outgrow the shirt (and it seems every one does) you can trade the old shirt for another size. We don't want these collector's items to end up in "goodwill" or dust rags. Contact us for more pictures, sizes, etc.

=======
BlueHighways TV is now on DISH Network:
All of your favorite Bluegrass, Traditional Country and Gospel music shows are
now available on DISH Network channel 73.
Dry Creek
Classic family western set in 1880bs Florida. Each episode tackles timeless
problems, highlighting lessons as simple as the golden rule.
Woodsongs
The best in Folk, Bluegrass and Blues music recorded live each week at the
historic Lyric Theatre in Lexington KY.
The Music Row Show
Music professionals reveal their craft during this video version of the radio
show. Recorded live at WSM.
Reno's Old Time Music
Original performances from the greatest artists in Bluegrass, the legends and
the new artist trying to make their way to the top.
Heart to Heart
Singers and songwriters talk about and play the music that has shaped their
lives.
======
www.oldtimemusic.com
www.msbga.org/events/eventlist
www.bluegrassdog.com
www.HootenannyPower.com
www.abitaopry.org
.
Baton Rouge Bluegrass Ass'n
(Jonathan Harris, Social Chairman /Janitor)
P O Box 4112, Baton Rouge LA 70821 (Louisiana)
BRbluegrass@aol.com
Tel. (225) 387-1600; Text 225.252.2708
Home of BlueGrass on the Bayou
Louisiana Bluegrass & Olde Tyme Music
.
.
HARRIS Law Firm - main financial supporter, preparing estate plans and last will and trust documents for the serious bluegrass fan concerned about his family and estate, and the perpetual care of his banjos, mandolins, violins and Martin guitars. Proceeds go to concerts and jams. HarrisLawFirm@aol.com
Gerard Furniture in BR - generous financial supporter, contributing to bringing in guest performers for Jams. Show support by visiting the store and mentioning "bluegrass."
Baton Rouge Bluegrass Ass'n
(Jonathan Harris, Social Chairman /Janitor)
P O Box 4112, Baton Rouge LA 70821 (Louisiana)
BRbluegrass@aol.com
Tel. (225) 387-1600
================================================================

==============================================================
The Preservation Hall Foundation is proud to announce the 2nd Annual Preservation Hall Ball at the Civic Theatre in New Orleans on October 3rd in addition to an expansion event at the historic Fillmore Auditorium in San Francisco on November 6th. Collaborators include Meshell Ndegeocello, Corey Glover of Living Colour, Deacon John Moore, Pinettes Brass Band and Beats Antique with more special guests to be announced.
The Preservation Hall Ball is a celebration of our musical past, present and future. The musicians who perform at the Hall, most of who I grew up with and learned under, are the bedrock that we all stand on. The Ball is a celebration of them and their families' legacy. It's a way for us to acknowledge and celebrate these important time honored traditions and the musicians and families who have nurtured New Orleans music for over a century. -Ben Jaffe
All proceeds from the Preservation Hall Ball will directly benefit The Preservation Hall Foundation.
http://preservationhallball.org/
===================================================
From Josh Dunson
Dear Family, Friends and Folk Music Leaders,

In my 74 years, this is the first time I have ever asked you or anyone else to join me as a member of a folk and/or advocacy organization.

I am proud to be a Creative Board member and dues paying member of the WoodSongs Front Porch Association (WFPA), a non-profit group that has successfully started a major grassroots push to involve K-12 schools in lesson plans around traditional music and to begin school performer coffee houses both in the school and in community based venues. The $20 (single) and $25 (family and/or band up to 5 members) covers your admission to the two-day gathering to be held at the Museum of Appalachia just north of Knoxville on September 25 and 26, 2015.

I do hope you join and maybe even join me and the other Members of the WFPA's Creative Board as a song farmer at the Gathering.

Below is a 3.5 Minute summary of the work and the First Gathering coming up in September. It also explains why you and I are Song Farmers.
www.youtube.com/watch?v=e_JbQPHu4-c&feature=youtu.be

To join, please go to this link
http://www.woodsongs.com/wp-content/uploads/2014/12/GatheringFLYER.pdf

The members of the Creative Board are listed below:

The very best,
Josh

Michael Johnathon: folksinger and producer of the WoodSongs broadcast

Art Menius: founding Executive Director of IBMA, founding board member of Folk Alliance

Rik Palieri: Vermont folksinger and author

Dr. Ron Pen: Director of the John Jacob Niles Center for American Music (University of Kentucky)
,
Steve Martin: attorney, Board of IBMA, bluegrass DJ

Loretta Sawyer: Chicago publicist, roots agent and author
Raymond McLain: Director of the KY Center of Traditional Music (Morehead State University)

Kari Estrin: board of SERFA, International Folk Alliance, artist consultant and manager

Josh Dunson: agent, journalist-author, social activist and creative force behind Real People's Music for 40 years
==================================================

Izzy Young "Talking Folklore Center" Coming to DVD on August 14th
The man who discovered Bob Dylan returns to Greenwich Village to revisit the Folklore Center days...
Izzy Young was the guru of American folk music. In this documentary covering his legendary Folklore Center in New York Izzy meets with friends and collaborators like Pete Seeger, Allen Ginsberg, The Fugs, Mayor Ed Koch to reminisce. It includes unique archival footage and folk music from the 1960s.
Young is credited with playing a crucial role in the rise of folk music in the 1960s, and with catapulting a young Bob Dyla to stardom by arranging his first proper concert, at Carnegie Chapter Hall, in 1961. He opened Izzy Young's Folklore Center on MacDougal Street in New York's Greenwich Village in 1959. It became a focal point for the American folk music scene of the time, a place where one could find such limited circulation publications as Caravan and Gardyloo. From 1959 to 1969, Young wrote a column entitled "Fret and Frails" for the folk music journal Sing Out. He served on the "editorial advisory board" for the magazine until his departure for Sweden a few years later.
Young arranged concerts with folk musicians and songwriters, who often made contacts with other musicians at the Folklore Center. Bob Dylan relates in his memoirs, Chronicles, how he spent time at the Center, where Young allowed him to sit in the backroom of the store, listening to folk music records and reading books. Dylan met Dave Van Ronk in the store, and Young produced Dylan's first concert at Carnegie Chapter Hall in New York City on Saturday, November 4, 1961.
"I broke my ass to get people to come," Young said in a recent interview with Tablet. "Only 52 people showed up but about 300 people remember being there. Everyone wants to say they were there. You understand?"
===================================================================

Above, Pharis and Jason Romero
TOP ARTISTS OF APRIL 2015 www.folkradio.org
Compiled by Richard Gillmann from FOLKDJ-L playlists
Based on 12996 airplays from 144 different DJs
1. Pharis And Jason Romero
2. Chuck Brodsky
3. Anna And Elizabeth
4. April Verch
4. Spuyten Duyvil
6. Elaine Romanelli
7. Tom Paxton
8. Tom Russell
9. Rhiannon Giddens
10. Robert Earl Keen
11. Joni Mitchell
11. Rani Arbo And Daisy Mayhem
13. Le Vent Du Nord
14. Trout Steak Revival
15. Bob Dylan
16. Gene And Gayla Mills
16. Jayme Stone
16. Moors And McCumber
19. The Foghorn String Band
19. Pete Seeger
19. Richard Thompson
22. The Burns Sisters
23. Natalie MacMaster And Donnell Leahy
24. The Steel Wheels
25. Danielle Miraglia
25. John McCutcheon
25. Norah Rendell
28. Amy Speace
28. The Gibson Brothers
28. Joel Mabus
28. Neptune's Car
32. John Renbourn
32. Leaf Rapids
32. The Stray Birds
35. Asleep At The Wheel
35. Joel Rafael
35. The Levins
38. Michael Jerome Browne
38. Norman Blake
40. Eliza Gilkyson
40. Jory Nash
40. The Lied To's
40. The Onlies

===========================================================
===============================================================
NEWS FROM TROUBADOUR PATRICK SYLVEST:
.http://www.patricksylvest.com is completely reconfigured and operational!
As 2014 closed, I was surprised on New Years Eve with a note from a friend, Singer Songwriter, Patrick Cooper in New Orleans congratulating me on a nice review in the latest issue of Offbeat Magazine! Imagine my surprise!
Laura DeFazio writes, "Gramercy-born singer/songwriter Patrick Sylvest remains firmly rooted to his beloved home state on his third effort, Lonesome Troubadour.
With an acoustic style that blends classic Americana/roots genres and showcases his impressive finger-picking abilities, he extols Louisiana's summertime pleasantries ("ice cold beers and warm sunshine"), takes a rollicking joyride through its dance-happy cities (think Tom Rush doing a hokier regional version of "On the Road Again"), and bemoans that "windbag houseguest that just won't leave" about Hurricane Isaac. The arc of the album begins with the sunny optimism of "Learn to Fly" only to fall to the depths of the grim resignation as "I'll give you all my heart and soul, 'til I can't write another note" wearily concludes the final cut.
The strongest tracks are the ones that incorporate diverse stylistic influences and instrumentation: the propulsive rhythm guitar and piano flourishes of the rockin' "Louisiana Traveling Jones," the gospel-style choruses and snappy staccato chords in "Ode to Rans McGaskey" and the spirited trad-jazz number "Have I Told You?," which features a clarinet and sounds like you'd hear on a night at Fritzel's.
Sylvest at times conveys a whisper of Gordon Lightfoot at his most wistful, and, given his knack for merging genres, it would be interesting to see what he would do with a tenser, rock-leaning rhythm section." http://www.offbeat.com/music/patrick-sylvest-lonesome-troubadour/

Thanks so much to Laura DeFazio and Offbeat Magazine for this kind and generous review!
I'm pleased that 2015 has me returning to perform at Flanagan's Creative Food and Drink , 1111 Audubon Avenue in Thibodaux, LA for Sunday Brunche April 19th from 11am until 2pm. I'd love to see you there!
Check out my new CD, 'Lonesome Troubadour', co-produced with Randy Walsh at Stray Records Studio in Bayou Goula, LA. Available from iTunes , and on CD and mp3 from CD Baby and at Hofman Music in Thibodaux, LA.
Have a Happy, Healthy, and Wealthy 2015 and I'll be looking forward to seeing y'all around!
Patrick Sylvest
http://airplaydirect.com/patricksylvest
https://www.facebook.com/patricksylvestmusic
http://www.patricksylvest.com
===================================================================
Northport N.Y. - M.C. Records is thrilled to announce that genre busting singer/songwriter, New Orleans based Dayna Kurtz will perform on the syndicated radio program eTown on May 3. She will share the stage with folk/bluesman Eric Bibb. Scroll down for all of Dayna's tour dates in the U.S. and Europe.
Dayna has always had fans from some of the most amazing songwriters including Bonnie Raitt and duet partner, Nora Jones. Now add Madeleine Peyroux to list. Here's what she said about "Rise And Fall."
It is great to hear an amazing voice but indescribable to hear an amazing soul. Thus this record and Dayna Kurtz are indescribable. I'm grateful for the discovery of a new old friend. - Madeleine Peyroux
Kurtz has achieved such distinctions as being named Female Songwriter of the Year by the National Academy of Songwriters. Norah Jones (with whom she later recorded a duet) and Bonnie Raitt have raved about her in interviews, she's performed on such high-profile radio shows as World Cafe, Mountain Stage and NPR's Morning Edition, and her singing was featured in a widely seen TV commercial for a prominent American hotel chain.
===================================================================
WXPN Radio posted the stream (and free download) of a new tribute
song tolegendary folk dj Gene Shay performed by 25 Philly based
artists. You can read and hear (and download) the song here:
http://thekey.xpn.org/2015/01/29/gene-shay-tribute-song/#more-150296
===================================================================
====================================================================
==================================================================
The Fabulous Bagasse Boyz
======================================================
NASHVILLE/NEW ORLEANS CONNECTION

Les Kerr has a new blog about the musical connection between Nashville and New Orleans. From Louis Armstrong's collaboration with Jimmie Rodgers to Del McCoury playing with the Preservation Hall Jazz Band, the connection continues at:

http://leskerr.wordpress.com/2013/07/12/the-nashville-new-orleans-musical-connection/

==========================================================

==========================================================

"Though it's impossible to pinpoint a particular moment when immigrants began inventing American music, a dramatic turning point surely occurred in 1804, the year a young nation made the Louisiana Purchase. President Thomas Jefferson sought to buy from the French just the city of New Orleans, because of its crucial value as a port. But a cash-strapped Napoleon sold the entire, still-uncharted Louisiana Territory for $15 million — roughly 4 cents an acre. In a single stroke, America became a thrilling, noisy eruption of sound."

http://www.chicagotribune.com/entertainment/music/ct-ae-0714-immigrant-music-20130713,0,6735268.column

================================================

=================================================

AIRPLAY ON JIM HOGG'S HOGG HEAVEN

Hi there,

I host a local BG / folk/gospel radio show that airs on several country stations on Sunday morning. If you have a recent recording that would reflect this format, please send along. I would be glad to air. Please let me know what song that you are trying to push.

I do this only as a labor of love for this kind of music and to promote local artist.

Thanks and tell your Mamma you love her.

Jim jimhogggroup@cox.net http://youtu.be/tfiXcyDWGso

======================================================

===================================================