======================================================================

Welcome Back To The Hootenanny Power Pages, Folk and Roots Music Playlist, and Coming Events in Baton Rouge and surrounding areas. The Hootenanny Power radio show, since 1981 on WRKF Public Radio Baton Rouge. The live audio stream may be heard via computer, Saturday nights, 9 pm to midnight central time, at www.wrkf.org, or on the airwaves at 89.3

Hootenanny Power Live Streaming Only! Broadcast regulations and licensing make podcasting or archiving rights for music programs murky murky murky. Unless and until these matters are cleared up, Hootenanny Power will be live streaming only, 9 pm to midnight central time, Saturday nights http://www.wrkf.org

=======================================================================

Coming in August 2015 ... something involving a) Hootenanny Power and b) Chicago IL. What are we possibly up to?

=======================================================================
Chris Thile Transitioning to Full-Time Host of A Prairie Home Companion
Chris Thile will transition to full-time host of A Prairie Home Companion
Cincinnati, Ohio — A mandolin player is about to assume one of the highest profile positions in public radio.
Garrison Keillor, long-time host and creator of the public radio show A Prairie Home Companion has hinted broadly in recent years that he was nearing the end of his tenure as host. But recently in a press interview and during a taping of the show, he has indicated that Chris Thile will be the stepping into that role, after serving as guest host on two occasions earlier this year.
Mandolin Cafe correspondent Bradley Klein confirmed the rumors, meeting with Thile after Saturday's Punch Brothers show in Cincinnati, Ohio.
"Everything Garrison said is true, and I'm really excited," said Thile.
more http://www.mandolincafe.com/news/publish/mandolins_001732.shtml
=======================================================================
From Calmes House Concerts:
***************************
BREAKING MIPSO/CALMES NEWS:
We now have a full house for the Mipso concert this Thursday. If you haven't signed on but hope to get a seat, let us know and we'll put you on a waiting list. If anyone drops out, we'll let you know and you will be given a seat on a first come, first serve basis.
To those of you who have already secured a seat, please let us know if you or your guests can't attend the show so that we can pass your seat on to someone on the waiting list.
Robert and Dianne Calmes
*************************
Our next concert came as a last minute surprise. They are a Chapel Hill, North Carolina quartet playing their particular brand of bluegrass which they call "renegade traditional." According to bandcamp.com , "The renegade traditionalists of Mipso--Jacob Sharp on Mandolin, Joseph Terrell on guitar, Libby Rodenbough on fiddle, and Wood Robinson on double bass--are doing their part to take four-part harmony and Appalachian influences into new territory.
The four members of Mipso have wandered off the path blazed by Earl Scruggs and Doc Watson to find a new clearing for their southern string band sound." Mipso are currently on tour promoting their new CD, Dark Holler Pop.
They will be coming to Calmes House Concerts on Thursday, July 2nd. The concert will start at 7 P.M. Suggested donation is $15 for this performance. ...NOTE SOLD-OUT INFORMATION ABOVE...As usual, you just need to send us an e-mail confirming your intention to attend the concert and let us know how many will be with you. Early notice of the number attending helps us to determine the seating arrangement, how much to cook, etc..
Where: Calmes House Concerts, 11143 Lazy Lake Drive, Baton Rouge, LA 70818
Cost: Suggested Donation of $15
Info: calmeshouseconcerts@gmail.com
===================================================================
RED MOLLY COMES TO BATON ROUGE FRIDAY 10 JULY 2015
8 PM
www.manshiptheatre.org 225-344-0334
=================================================================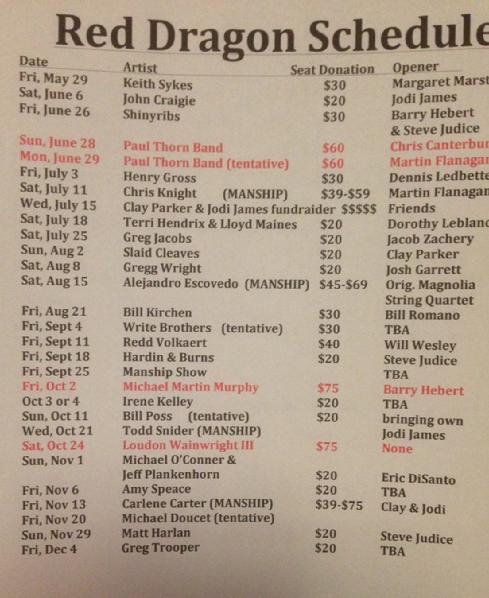 RED DRAGON LISTENING ROOM:
News from the Red Dragon: contact cmaxwell@premier.net
Red Dragon TheWebsite: www.reddragonlr.com
MANSHIP SHOWS ANNOUNCED BY RED DRAGON'S CHRIS MAXWELL cmaxwell@premier.net

Chris Knight.....
On Sat, July 11 CHRIS KNIGHT returns to the Manship Theatre. Dark and incredible songs.....if you don't know his music you have been missing out. MARTIN FLANAGAN will open the show. Speaking of dark, check this one out:

Alejandro Escovedo.....
On Fri, Aug 15 we are proud to be hosting ALEJANDRO ESCOVEDO. This will be our first show with Alejandro. He has been on our wish list for years. The show will be opened by the ORIGINAL MAGNOLIA STRING QUARTET

Carlene Carter.....
Fresh off of her massively successful tour with JOHN MELLENCAMP, CARLENE CARTER will play the Manship on Fri, November 13. The edgiest member of the famed CARTER FAMILY, you don't want to miss this one. CLAY PARKER & JODI JAMES will open the show.
Seats available at WWW.MANSHIPTHEATRE.ORG
====================================================================



Henry Gross on July 3......
Next week we host HENRY GROSS for his first Baton Rouge visit. I got into Henry's music in the mid 70's. I didn't even know he had performed at the original WOODSTOCK. I also didn't know he played guitar on JIM CROCE'S break out album. I just knew he had a GREAT album called "Plug Me Into Something". Henry went on to sell over 7 million records and scored two top 40 hits. His song "Shannon" is still huge on classic rock radio.
The return of the Kinkster.........
You guessed it......it is Kinky time again! KINKY FRIEDMAN that is. Singer, songwriter, politician, pundit, best selling author, cigar/tequila/salsa businessman.......a true renaissance man! Kinky will join us again on Sat, Aug 22 at 8pm. This show is so new, the ink hasn't dried on my notebook! Seats will again be $50....$60 for VIPs. Kinky is just putting finishing touches on a brand new album, his first in years. Expect a few new stories and a few new songs, along with the usual Kinky insanity. The ticket window is now open!!!!!
Dad, chris m cmaxwell@premier.net
As I keep stressing, we are now a 501 (c) 3 Federal non-profit corporation. Checks are tax deductible and can be made out to LOUISIANA AMERICANA & FOLK SOCIETY and mailed to 8631 Rainwood Ave, Baton Rouge, LA 70810. cmaxwell@premier.net

==============================================================

==============================================================


Above, Pharis and Jason Romero

TOP ARTISTS OF APRIL 2015 www.folkradio.org
Compiled by Richard Gillmann from FOLKDJ-L playlists
Based on 12996 airplays from 144 different DJs

1. Pharis And Jason Romero
2. Chuck Brodsky
3. Anna And Elizabeth
4. April Verch
4. Spuyten Duyvil
6. Elaine Romanelli
7. Tom Paxton
8. Tom Russell
9. Rhiannon Giddens
10. Robert Earl Keen
11. Joni Mitchell
11. Rani Arbo And Daisy Mayhem
13. Le Vent Du Nord
14. Trout Steak Revival
15. Bob Dylan
16. Gene And Gayla Mills
16. Jayme Stone
16. Moors And McCumber
19. The Foghorn String Band
19. Pete Seeger
19. Richard Thompson
22. The Burns Sisters
23. Natalie MacMaster And Donnell Leahy
24. The Steel Wheels
25. Danielle Miraglia
25. John McCutcheon
25. Norah Rendell
28. Amy Speace
28. The Gibson Brothers
28. Joel Mabus
28. Neptune's Car
32. John Renbourn
32. Leaf Rapids
32. The Stray Birds
35. Asleep At The Wheel
35. Joel Rafael
35. The Levins
38. Michael Jerome Browne
38. Norman Blake
40. Eliza Gilkyson
40. Jory Nash
40. The Lied To's
40. The Onlies


===========================================================

BLUEGRASS NEWS:

www.lagniappedulcimerBR.org www.oldtimemusic.com


www.msbga.org/events/eventlist


www.bluegrassdog.com


www.HootenannyPower.com


www.abitaopry.org
.

Baton Rouge Bluegrass Ass'n
(Jonathan Harris, Social Chairman /Janitor)
P O Box 4112, Baton Rouge LA 70821 (Louisiana)
BRbluegrass@aol.com
Tel. (225) 387-1600; Text 225.252.2708
Home of BlueGrass on the Bayou
Louisiana Bluegrass & Olde Tyme Music
.
.
HARRIS Law Firm - main financial supporter, preparing estate plans and last will and trust documents for the serious bluegrass fan concerned about his family and estate, and the perpetual care of his banjos, mandolins, violins and Martin guitars. Proceeds go to concerts and jams. HarrisLawFirm@aol.com

Gerard Furniture in BR - generous financial supporter, contributing to bringing in guest performers for Jams. Show support by visiting the store and mentioning "bluegrass."

Baton Rouge Bluegrass Ass'n
(Jonathan Harris, Social Chairman /Janitor)
P O Box 4112, Baton Rouge LA 70821 (Louisiana)
BRbluegrass@aol.com
Tel. (225) 387-1600

================================================================

The good news is that the Cajun CD is now being mastered, and the fiddle CD is almost ready to mix. And there is that Fiddle EP that some of you have, and others are still waiting for…

For those who are still waiting for their copy of The Fiddle EP, thank you so much for your patience. I will be sending them out in the next couple weeks. Because you have been waiting for your CDs from me, I will be sending them out to all those who asked for a signed CD. With any luck, that'll be in your hot hands by the first part of July, only because so many of you have been kind enough to ask for a fiddle CD from me.

And I still have some cool pie recipes to send. Just in time for summer!

Thank you so much again for all your wonderful kindness and generosity! I can't thank you all enough.


https://www.indiegogo.com/projects/gina-forsyth-s-new-fiddle-cd#/updates

===============================================================

NEWS FROM TROUBADOUR PATRICK SYLVEST:

.http://www.patricksylvest.com is completely reconfigured and operational!

As 2014 closed, I was surprised on New Years Eve with a note from a friend, Singer Songwriter, Patrick Cooper in New Orleans congratulating me on a nice review in the latest issue of Offbeat Magazine! Imagine my surprise!

Laura DeFazio writes, "Gramercy-born singer/songwriter Patrick Sylvest remains firmly rooted to his beloved home state on his third effort, Lonesome Troubadour.

With an acoustic style that blends classic Americana/roots genres and showcases his impressive finger-picking abilities, he extols Louisiana's summertime pleasantries ("ice cold beers and warm sunshine"), takes a rollicking joyride through its dance-happy cities (think Tom Rush doing a hokier regional version of "On the Road Again"), and bemoans that "windbag houseguest that just won't leave" about Hurricane Isaac. The arc of the album begins with the sunny optimism of "Learn to Fly" only to fall to the depths of the grim resignation as "I'll give you all my heart and soul, 'til I can't write another note" wearily concludes the final cut.

The strongest tracks are the ones that incorporate diverse stylistic influences and instrumentation: the propulsive rhythm guitar and piano flourishes of the rockin' "Louisiana Traveling Jones," the gospel-style choruses and snappy staccato chords in "Ode to Rans McGaskey" and the spirited trad-jazz number "Have I Told You?," which features a clarinet and sounds like you'd hear on a night at Fritzel's.

Sylvest at times conveys a whisper of Gordon Lightfoot at his most wistful, and, given his knack for merging genres, it would be interesting to see what he would do with a tenser, rock-leaning rhythm section." http://www.offbeat.com/music/patrick-sylvest-lonesome-troubadour/


Thanks so much to Laura DeFazio and Offbeat Magazine for this kind and generous review!

I'm pleased that 2015 has me returning to perform at Flanagan's Creative Food and Drink , 1111 Audubon Avenue in Thibodaux, LA for Sunday Brunche April 19th from 11am until 2pm. I'd love to see you there!

Check out my new CD, 'Lonesome Troubadour', co-produced with Randy Walsh at Stray Records Studio in Bayou Goula, LA. Available from iTunes , and on CD and mp3 from CD Baby and at Hofman Music in Thibodaux, LA.

Have a Happy, Healthy, and Wealthy 2015 and I'll be looking forward to seeing y'all around!

Patrick Sylvest

http://airplaydirect.com/patricksylvest
https://www.facebook.com/patricksylvestmusic
http://www.patricksylvest.com

===================================================================

Northport N.Y. - M.C. Records is thrilled to announce that genre busting singer/songwriter, New Orleans based Dayna Kurtz will perform on the syndicated radio program eTown on May 3. She will share the stage with folk/bluesman Eric Bibb. Scroll down for all of Dayna's tour dates in the U.S. and Europe.

Dayna has always had fans from some of the most amazing songwriters including Bonnie Raitt and duet partner, Nora Jones. Now add Madeleine Peyroux to list. Here's what she said about "Rise And Fall."

It is great to hear an amazing voice but indescribable to hear an amazing soul. Thus this record and Dayna Kurtz are indescribable. I'm grateful for the discovery of a new old friend. - Madeleine Peyroux

Kurtz has achieved such distinctions as being named Female Songwriter of the Year by the National Academy of Songwriters. Norah Jones (with whom she later recorded a duet) and Bonnie Raitt have raved about her in interviews, she's performed on such high-profile radio shows as World Cafe, Mountain Stage and NPR's Morning Edition, and her singing was featured in a widely seen TV commercial for a prominent American hotel chain.

===================================================================

WXPN Radio posted the stream (and free download) of a new tribute
song tolegendary folk dj Gene Shay performed by 25 Philly based
artists. You can read and hear (and download) the song here:

http://thekey.xpn.org/2015/01/29/gene-shay-tribute-song/#more-150296

===================================================================

====================================================================

==================================================================

The Fabulous Bagasse Boyz

======================================================
NASHVILLE/NEW ORLEANS CONNECTION

Les Kerr has a new blog about the musical connection between Nashville and New Orleans. From Louis Armstrong's collaboration with Jimmie Rodgers to Del McCoury playing with the Preservation Hall Jazz Band, the connection continues at:

http://leskerr.wordpress.com/2013/07/12/the-nashville-new-orleans-musical-connection/

==========================================================

==========================================================

"Though it's impossible to pinpoint a particular moment when immigrants began inventing American music, a dramatic turning point surely occurred in 1804, the year a young nation made the Louisiana Purchase. President Thomas Jefferson sought to buy from the French just the city of New Orleans, because of its crucial value as a port. But a cash-strapped Napoleon sold the entire, still-uncharted Louisiana Territory for $15 million — roughly 4 cents an acre. In a single stroke, America became a thrilling, noisy eruption of sound."

http://www.chicagotribune.com/entertainment/music/ct-ae-0714-immigrant-music-20130713,0,6735268.column

================================================

=================================================

AIRPLAY ON JIM HOGG'S HOGG HEAVEN

Hi there,

I host a local BG / folk/gospel radio show that airs on several country stations on Sunday morning. If you have a recent recording that would reflect this format, please send along. I would be glad to air. Please let me know what song that you are trying to push.

I do this only as a labor of love for this kind of music and to promote local artist.

Thanks and tell your Mamma you love her.

Jim jimhogggroup@cox.net http://youtu.be/tfiXcyDWGso

======================================================

===================================================