====================================================================
HootenannyPower:
Folk, Roots, World and Acoustic
Music in Baton Rouge
and South Central Louisiana
==================================================================
======================================================================

Welcome Back To The Hootenanny Power Pages, Folk and Roots Music Playlist, and Coming Events in Baton Rouge and surrounding areas. The Hootenanny Power radio show, since 1981 WRKF Public Radio Baton Rouge. The live audio stream may be heard via computer, Saturday nights, 9 pm to midnight central time, at www.wrkf.org, or on the airwaves at 89.3

Hootenanny Power Live Streaming Only! Broadcast regulations and licensing make podcasting or archiving rights for music programs murky murky murky. Unless and until these matters are cleared up, Hootenanny Power will be live streaming only, 9 pm to midnight central time, Saturday nights http://www.wrkf.org

=============================================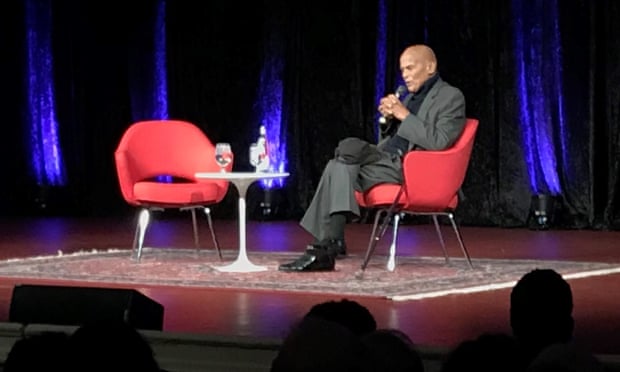 Harry Belafonte tells crowd at likely last public appearance: 'We shall overcome'
Harry Belafonte appeared dazed, struggling to stand with a cane as an aide guided him slowly to his place on stage. Having caught his breath, the 90-year-old singer and civil rights activist warned the crowd at Carnegie Music Hall on Friday night that this was likely his last public appearance.
Martin Luther King: Harry Belafonte remembers 'I Have a Dream'

It lasted nearly two hours. Despite appearing disoriented – a stroke a few years ago took away his inner-ear balance – and taking long breaks to gathers his thoughts, Belafonte brought the crowd to rising cheers and chants....
more https://www.theguardian.com/us-news/2017/oct/21/harry-belafonte-we-shall-overcome-trump
=======================================================================
HENRY GRAY, every Tuesday night 6 - 8 pm
Time Out Lounge (smokefree) on Bennington
====================================================
DON VAPPIE AND MIKE ESNAULT
most Wednesday nights, Sullivan's
===============================================================
SLIM HARPO MUSIC AWARDS
Thursday, November 16, 2017, 6pm -Time Out Lounge, 4619 Bennington Av. BRLA 70808
Jambalaya social 6p; Awards 7:30; Jam session 8:15
Jam Session featuring: Deacon John, CC Adcock, Carol Fran, Luther Kent, Scott Billington, Paula Rangel, more
Distinguished author John Broven-Legend
15yr. WBRH Louisiana Gumbo radio host Pat McBride-Ambassador
Career Blues men Sundance Howie & Kenny Acosta-Pioneers
Advance tickets $20 ea at Time Out FREE Capital City Blues CD with two ticket purchase
Questions: Johnny Palazzotto rhythmpal@yahoo.com
================================================================
MARGO PRICE
The Manship Theatre Thurs 1 February 2018 7:30 pm www.manshiptheatre.org
=============================================
Charlie King wins 2017 Phil Ochs Award

Charlie King, the musical storyteller and political satirist, won the 2017 Phil Ochs Award given to singer songwriters whose music and activism embody the spirit and commitment of legendary folk singer Phil Ochs. Charlie has been at the heart of American folk music for half a century. He sings and writes passionately about the extraordinary lives of ordinary people.

His songs have been sung by Pete Seeger, Holly Near, Ronnie Gilbert, John McCutcheon, Arlo Guthrie, Peggy Seeger, Chad Mitchell and Judy Small, to name a few. Pete Seeger called Charlie "One of the finest singers and songwriters of our time." Among Charlie's best known songs are "Buy, Buy This American Car", That's the Way I Made My Millions", "Two Good Arms" and "Send in the Drones".

Charlie was presented with a plaque commemorating the award and a cash stipend of $2000 at a concert presented by the Schenectady County Historical Society at Mabee Farms Dutch Barn in Rotterdam Junction, NY on Sunday October 8, 2017. The award was presented by Phil Ochs' sister Sonny Ochs and by Ron and Kathy Cooke and Chad Phillips representing A Still Small Voice 4U that sponsors the award. Additional funding was generously contributed by Michael Sussman, a civil rights and environmental lawyer, from Orange County, NY.

The Phil Ochs Award is presented annually by A Still Small Voice 4U Inc. (ASSV) a 501(c)3 not for profit devoted to encouraging and supporting arts, music, literature, culture and community. The award is determined by a national panel of judges. ASSV directly supports individuals and organizations that share its mission and commitment and sponsors concerts, exhibits, performances, readings and community activities. More information is available at http://www.assv4u.com/.

=============================================
RED DRAGON LISTENING ROOM:
News from the Red Dragon: contact cmaxwell@premier.net
Red Dragon TheWebsite: www.reddragonlr.com
Reservations cmaxwell@premier.net
Ramblin' Jack Elliott.... Sundays are not always the best days for our shows, but we sure couldn't pass up this chance. GRAMMY AWARD WINNER and folk music icon RAMBLIN' JACK ELLIOTT returns to the Red Dragon on Sunday, Nov 19 at 7pm. Yup......the show is tomorrow night! It snuck up on me a bit as I was distracted with other recent shows. So.......what are you doing tomorrow evening? Would you like to see a true music legend? A two time Grammy winner, recipient of the National Medal of the Arts. The mentor to BOB DYLAN, LOUDON WAINWRIGHT, JERRY JEFF WALKER, GUY CLARK and thousands of others. We are about 2/3 of the way to "breaking even" on this event. That is always one of our goals. The other is to provide an opportunity to see such talented musicians and, in this case, musical icons. Regular seats for the show are $50, VIP seats are $60, YVETTE LANDRY & RICHARD COMEAUX open and the direct ticket link is ramblinjackdragon.brownpapertickets.com

Next Week at the Dragon... We have two shows next week on back-to-back nights. On Thanksgiving night (Nov 23) we host the patriarch of country music in Australia, BILL CHAMBERS. After a lifetime in music, Bill is known most these days as the father of famed producer NASH CHAMBERS and of superstar KASEY CHAMBERS. A bit unfair, but I guess it is par for the course when your kids become famous. If you are like me, your Thanksgiving is spent all day with family and you have nothing to do that evening. My family often goes to the movie theatre that night. Well this is another option for you. A wonderful music show!! Reg seats are $30, VIPs are $40, ERIC DISANTO & AMEAL CAMERON open and the direct ticket link is billchambersdragon.brownpapertickets.com

==

Chuck Hawthorne, USMC (retired).... After more than 20 years serving our country in the United States Marine Corps, CHUCK HAWTHORNE stepped into a whole new biz. He had always been a singer/songwriter. After his retirement from the military, Chuck had a chance meeting with our friend RAY BONNEVILLE. An album resulted and Chuck became the talk of folk music circles. His songs are that good. And that is always our criteria. Our show takes place on Fri, Nov 24 at 8pm. Our buddy TONY COBB will open and we will also have a little sample of ORDINARY ELEPHANT in advance of their GRACE HOUSE CONCERT appearance. Reg seats are $20, VIPs are $30 and the direct ticket link is chuckhawthornedragon.brownpapertickets.com

Dec 9 TERRI HENDRIX & LLOYD MAINES $30/$40 ERIC DISANTO & KRISTIN COURVILLE open
terriandlloyddragon.brownpapertickets.com



Jan 5 ERIC BRACE / PETER COOPER / THOM JUTZ $30/$40 opener TBA


bracecooperdragon.brownpapertickets.com



Jan 13 JOHN GORKA $30/$40 GINA FORSYTH opens


johngorkadragon.brownpapertickets.com



Jan 19 CODY CANADA & MIKE MCCLURE $35/$45 CLAY PARKER opens


canadamccluredragon.brownpapertickets.com



Jan 20 DALE WATSON (band) $30/$40 opener TBA


dalewatsondragon.brownpapertickets.com



Jan 25 CHRIS KNIGHT $50/$60 opener TBA


chrisknightdragon.brownpapertickets.com
==========================
Dyson House  
Address:
7575 Jefferson Hwy, Baton Rouge, LA 70806
Dyson House Listening Room
7575 Jefferson Hwy Baton Rouge, LA 70806
===================================================================
BLUEGRASS NEWS: Bluegrass & Olde Tyme acoustic string music on the Rivers,Bayous and Roadside Ditches of Louisiana.
.
.
.Jam most Sundays at "GEORGE's Southside" on Highland Road at Staring Lane (Essen) 2:30 - 5:00
.
.
.
=====
Reminder: 4th Sat. Jam at Main Street Market at 11:00 am,
.
Sunday Jam at George's Southside 2:45 pm - 5:00 +
.
BRbluegrass@aol.com
.
https://www.facebook.com/batonrouge.bluegrass
http://brbluegrassassn.wix.com/brbg
.
2017 regular jams
.
Mon "HI HO Lounge" - St. Claude Ave - New Orleans
8- 10
pm
Mon "Cite des Arts Theatre" - downtown Lafayette
7- 9 pm (canc'd on Mar 21)

Tues "Counter Culture" coffe shop - Slidell
5:45 pm
Sun
"GEORGE's Southside" - Baton Rouge (corner Highland/Essen)
2:30 pm - 5 pm (early birds encouraged to patronize the restaurant)

.
1st Sun "Tom's Fiddle & Bow" Arnaudville,
1-4
pm
1st Sun "Hootenancy" at Birdman Cafe, St Fran
5 pm
(pot luck)
2nd & 4th Sat - "Main Street Market" 5th & Main in BR -
11 am
'til 1 pm
DULCIMER GROUPS:
Mon nite - Lagniappe Dulcimer Soc'y -
6 pm
, Comm'y Bible Church, 8354 Jeffersn Hwy - in BR
2nd Sat (only) Cajun Dulcimer Soc'y -
10 am
- Acad'n Cultrl Cntr - in Laf.
www.lagniappedulcimerBR.org
www.oldtimemusic.com
www.msbga.org/events/eventlist
www.bluegrassdog.com
www.HootenannyPower.com
www.abitaopry.org
.
Baton Rouge Bluegrass Ass'n
(Jonathan Harris, Social Chairman /Janitor)
P O Box 4112, Baton Rouge LA 70821 (Louisiana)
BRbluegrass@aol.com
Tel. (225) 387-1600; Text 225.252.2708
Home of BlueGrass on the Bayou
Louisiana Bluegrass & Olde Tyme Music
.
.
HARRIS Law Firm - main financial supporter, preparing estate plans and last will and trust documents for the serious bluegrass fan concerned about his family and estate, and the perpetual care of his banjos, mandolins, violins and Martin guitars. Proceeds go to concerts and jams. HarrisLawFirm@aol.com
Gerard Furniture in BR - generous financial supporter, contributing to bringing in guest performers for Jams. Show support by visiting the store and mentioning "bluegrass."
Baton Rouge Bluegrass Ass'n
(Jonathan Harris, Social Chairman /Janitor)
P O Box 4112, Baton Rouge LA 70821 (Louisiana)
BRbluegrass@aol.com
Tel. (225) 387-1600
=====================================================================
JUST RELEASED CD: THE MID-CITY ACES
http://www.louisianamusicfactory.com/shop/compact-disc/gina-forsyth-mid-city-aces/
==========================================================
Compiled by Richard Gillmann from FOLKDJ-L playlists

Based on 12964 airplays from 128 different DJs

1. The Early Mays

2. Glen Campbell

3. Dave Rawlings

3. John Reischman And The Jaybirds

5. The Jerry Douglas Band

6. Susan Cattaneo

7. Tom Russell

8. Joe Jencks

9. Heather Pierson

10. Chris Ronald

11. Matthew Byrne

12. Bruce Cockburn

13. Old Salt Union

13. Pete Seeger

15. Bob Dylan

16. Ben Hunter, Phil Wiggins, Joe Seamons

17. George Thorogood

17. The Jeremiahs

19. John McCutcheon

20. Slaid Cleaves

21. Amber Cross

22. Eilen Jewell

23. Rhiannon Giddens

23. Sherman Holmes

25. Kat Goldman

25. Joe Mullins And The Radio Ramblers

27. Dale Ann Bradley

27. Dave Carter And Tracy Grammer

27. John Prine

27. Paul Kelly

31. Joan Baez

32. Friction Farm

32. Jillette Johnson

32. Jolie Holland And Samantha Parton

32. Shawna Caspi

36. Harpeth Rising

36. Lukas Nelson And Promise Of The Real

36. Pete's Posse

36. Tim O'Brien

40. Johnny Cash

40. O'Connor Band

40. Rhonda Vincent

40. Sarah Jane Scouten
====================================================================
WXPN Radio posted the stream (and free download) of a new tribute
song tolegendary folk dj Gene Shay performed by 25 Philly based
artists. You can read and hear (and download) the song here:
http://thekey.xpn.org/2015/01/29/gene-shay-tribute-song/#more-150296
======================================================
NASHVILLE/NEW ORLEANS CONNECTION

Les Kerr has a new blog about the musical connection between Nashville and New Orleans. From Louis Armstrong's collaboration with Jimmie Rodgers to Del McCoury playing with the Preservation Hall Jazz Band, the connection continues at:

http://leskerr.wordpress.com/2013/07/12/the-nashville-new-orleans-musical-connection/

======================================================

"Though it's impossible to pinpoint a particular moment when immigrants began inventing American music, a dramatic turning point surely occurred in 1804, the year a young nation made the Louisiana Purchase. President Thomas Jefferson sought to buy from the French just the city of New Orleans, because of its crucial value as a port. But a cash-strapped Napoleon sold the entire, still-uncharted Louisiana Territory for $15 million — roughly 4 cents an acre. In a single stroke, America became a thrilling, noisy eruption of sound."

http://www.chicagotribune.com/entertainment/music/ct-ae-0714-immigrant-music-20130713,0,6735268.column